Peele, Bryant and Del Toro win at a more diverse Oscars
JAKE COYLE | 3/12/2018, 11:37 a.m.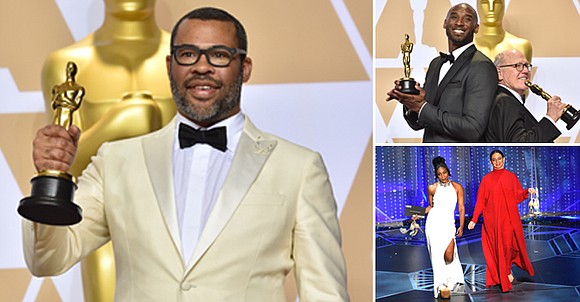 "I do want to mention, this year, when you hear your name called, don't get up right away," said Kimmel. "Give us a minute."
But while Kimmel spent a few moments on the fiasco known as Envelopegate, he expended far more minutes frankly and soberly discussing the parade of sexual harassment allegations in the wake of the revelations regarding Weinstein. Kimmel cited the industry's poor record for female directors and equal pay.
"We can't let bad behavior slide anymore," said Kimmel. "The world is watching us."
Gesturing to a giant statue on the stage, he praised Oscar for keeping "his hands where you can see them" and for having "no penis at all." But Kimmel introduced the broadcast as "a night for positivity," and cited, among other things, the box-office success of Black Panther and Wonder Woman.
"I remember a time when the major studios didn't believe a woman or a minority could open a super hero movie – and the reason I remember that time is because it was March of last year," said Kimmel.
Several cinema legends won their first Oscar. James Ivory, 89, won best adapted screenplay for his script to the coming-of-age drama Call Me By Your Name, becoming the oldest winner ever. On his 14th nomination, revered cinematographer Roger Deakins finally won for his photography on Blade Runner 2049. In the category, Rachel Morrison (Mudbound) became the first woman nominated for best cinematography.
Pakistan-born comedian Kumail Nanjiani joined Kenyan-born Lupita Nyong'o to salute the so-called Dreamers – immigrants brought to the U.S. illegally as children and here without permanent protection from deportation. "Dreams are the foundation of Hollywood and dreams are the foundation of America. And, so, to all the Dreamers out there, we stand with you," Nanjiani said.
Later, Pixar's colorful ode to Mexican culture Coco won best animated film as well as best song for Remember Me. Best foreign language film went to Chile's A Fantastic Woman, Sebastian Lelio's drama starring transgender actress Daniela Vega.
"The biggest thank you of all to the people of Mexico," said director Lee Unkrich to loud applause. "Marginalized people deserve to feel like they belong. Representation matters."
Netflix scored its first feature-film Oscar, with best documentary going to Icarus, Bryan Fogel's investigation into doping in sports, aided by the assistance of Grigory Rodchenkov, the head of the Russian anti-doping laboratory who candidly discussed the doping scheme under Vladimir Putin. Fogel dedicated the award to Rodchenkov, "our fearless whistleblower who now lives in grave danger."
The Winston Churchill drama Darkest Hour won for best makeup. The period romance Phantom Thread won for costume design.
The ceremony was the crescendo of one of Hollywood's most turbulent awards seasons ever – one that saw cascading allegations of sexual harassment topple movie moguls, upended Oscar campaigns and new movements launched to improve gender equality throughout the industry.
No Golden Globes-style fashion protest was held by organizers of Time's Up, the initiative begun by several hundred prominent women in entertainment to combat sexual harassment. Their goals go beyond red carpets, organizers said in the lead-up to the Oscars. "We did the dress code thing and now we're doing the work," said #MeToo founder Tarana Burke on the red carpet.