Black Girl Magic: The magic of A Wrinkle in Time
RONDA RACHA PENRICE | 3/19/2018, 10:36 a.m.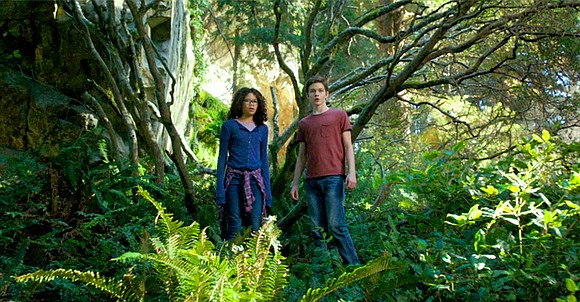 Urban News Service
LOS ANGELES and ATLANTA — "Black cinema" and "blockbuster" are suddenly becoming synonymous, with Black Panther already taking in a billion dollars in global box office receipts and Jordan Peele becoming the first African American to win an Oscar for best original screenplay for his surprise 2017 racially-tinged hit Get Out. And March 9, Disney released its highly anticipated film, A Wrinkle in Time, a $100 million film with a Black female director and young Black female star.
A Wrinkle in Time is a mainstream movie with an intentionally African American face. Madeleine L'Engle's 1962 science fantasy novel of the same title, from which it is adapted, centers on a middle school-aged White girl, Meg Murray, who is battling with self-esteem issues. Through the help of three celestial guides – Mrs. Which, Mrs. Whatsit and Mrs. Who – she tries to find her missing scientist father, whom she mourns desperately, by traveling through other worlds with her brother Charles Wallace and her friend Calvin.
On the big screen, Meg is an African American girl, with Oprah Winfrey, Reese Witherspoon and Mindy Kaling portraying the guides.
What viewers see on the screen is the result in large part by decisions made behind the camera. That begins with trailblazing director, Ava DuVernay. Prior to being tapped to direct A Wrinkle in Time, whose $100 million budget is the largest ever for a Black female director in Hollywood, DuVernay was known for quiet films like Middle of Nowhere, which garnered her the Best Director Award at the 2012 Sundance Film Festival, the first for an African American woman. Before A Wrinkle in Time, Selma (2014) about the Voting Rights Act campaign led by Dr. Martin Luther King Jr., was DuVernay's biggest budget feature film at just $20 million.
But DuVernay took the leap only because of the opportunity provided by a Black Disney executive.
"It wasn't a likely marriage but when you have a brother inside, Tendo Nagenda, who said 'I can see this happening' and he imagined what it could be before I imagined what it could be," DuVernay said of Disney's executive vice president of production during her acceptance speech for the African American Film Critics Association Innovator Award in February. "The thing I really remember is Tendo saying, 'Ava imagine the worlds you can build.'"
That conversation, she said, "started to get me to ask questions about what I wanted to assert in that story and the real core of it was: who gets to be the hero? Because, right now, we're in this space where we're on the cusp of Black Panther and all its gloriousness and we get to re-imagine who is at the center of the story. This story, our story, she's not a superhero; she's not royalty; she's not a Disney princess. She's just a girl with glasses in a plaid shirt who ends up saving herself and her family and the universe from darkness."
The actress who plays that unlikely hero, Storm Reid, was familiar with the story but admits to not being personally invested in it until now.