Monday Night Politics: Meet the Candidates features candidates for Dallas ISD Board of Trustees - District 9
DENISHA McKNIGHT | 3/19/2018, 10:34 a.m.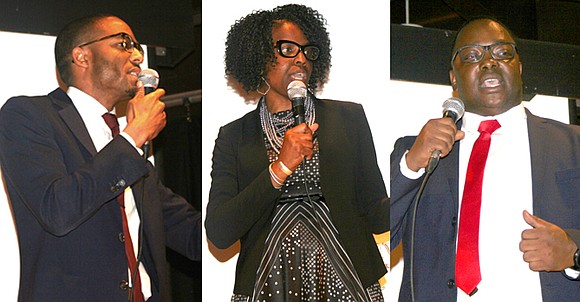 The Dallas Examiner
Monday Night Politics: Meet the Candidates, presented by The Dallas Examiner, held its final forum March 5 at the African American Museum for candidates running for Dallas ISD Board of Trustee District 9 positions: incumbent Bernadette Nutall, Justin Henry, Edward Turner and Ona Marie Hendricks. Hendricks was not present.
Henry kicked off the discussion with brief story about his childhood in relation to his potential position.
"As I stand here one the shoulders of these giants, I think about our kids in DISD and the opportunity we're missing with them," he said. "I feel like it is time for us to turn the page. It's time for us to stand up and advocate for our kids, the same way the giants of our present and our past advocated for us. That's why I'm running for school board."
Nutall followed detailing her mission for the district upon her return.
"I'm seeking re-election again because there is still work to be done," the current trustee said. "I'm seeking re-election to continue that work, to ensure H.S. Thompson [Elementary School] opens up in 2020 and to ensure that our kids get all the opportunities that they deserve."
Turner closed the introductory segment specifying his goals to the audience.
"As your next trustee, I am going to focus on early childhood [development], expanding pre-K, college readiness and creating authentic community engagement," he stated. "The community knows the work I have done in these schools. They trust me because they know I care about the best interest of our kids and as your next school board trustee I promise you I will put the trust back into trustee."
The platform ended with a briefing between audience members and the nominees featuring various questions about their campaigns and decision-making process.
Question: How would you describe the state of education in District 9?
HENRY: District 9 is a very diverse district . There's different demographics across the district. The state right now is not where it needs to be and that's one of the reasons I am running. When you look at the schools in South Dallas, we have five that are IR – the highest we've ever had. When you look at East Dallas they have all these opportunities though. They have a school lifeline that has montessori programs with dual languages both ways. In the Grove we don't have anything yet. The state of District 9 is very diverse. You have pockets with a lot of opportunities but then you have other places with a lack of opportunity. That's why I'm running. I feel like these programs that parents are demanding need to be in all of our schools and included in the heart of sunny South Dallas. So, the state is not where it needs to be and that's why I'm running. I plan on working on that and that's what I've been doing for the last eight years in Dallas.
NUTALL: We just approved for Frederick Douglass [Elementary] to be an innovative STEAM campus. We have two early learning colleges at James Madison and Lincoln [High School] as well as the Lincoln culinary program that's going on. J.P. Starks [Elementary] just became a vanguard school so it's going to go from third grade all the way to eighth grade. The Board just approved that. While we do have several schools in District 9 in South Dallas that are low-performing are when we look at the last five years under the last administration we're reaping the bad benefit of those bad decisions and bad policies that happened within the Board. The TEI is one of those policies that we are reaping now in District 9 and those five low-performing schools. They took all the principals out of those schools four years ago except one principal. So now we are trying to play catch up from that.