Monday Night Politics: Meet the Candidates features candidates for Dallas ISD Board of Trustees - District 9
DENISHA McKNIGHT | 3/19/2018, 10:34 a.m.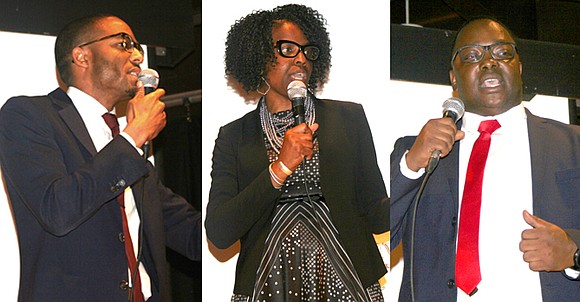 TURNER: The state of District 9 is very fragile in my personal opinion. And the reason for that is when you look at a community like South Dallas where you have five low-performing schools, which is unheard of, and we're not looking at opportunities of bringing in schools of choice like H.S. Thompson, which is rightfully so closed because of population dwindling and things of that nature. As the next school board trustee, I will definitely work with the community to talk about how can we increase the amount of kids that are in our school and how can we enter other opportunities to increase enrollment and produce better programs for our kids.
Q: What are the top three goals you would like to accomplish if elected or re-elected?
TURNER: The top three things I would like to accomplish is early pre-K. Why that is important is because the data shows when we have kids that are pre-K ready they are more likely to finish high school. I also want to focus on college and career readiness apprenticeship programs. We know that every kid is not going to go to college but when it comes to apprenticeship programs we can give these students training and ready to go into the workforce. That's one reason why I focused on our support of district innovation, which opened up those opportunities for professors as well as trained professionals that come in and teach our students. The last thing I will focus on is the racial equity assessment because we definitely have to tackle the racial equity divide that is in our community.
NUTALL: One of the things that I worked on was the racial equity committee. I was the chair of the racial equity committee and the board will be discussing a policy this Thursday. That will be a policy for racial equity. The things that I will focus on is ... first of all, we all know we need great teachers. We need to get a great evaluation system. TEI is not working for our schools in the southern sector or working in our district period when you understand the detail of TEI. Secondly, we want to open up H.S. Thompson. I was able under my leadership to get $29 million allocated to H.S. Thompson, so we will have a new H.S. Thompson in South Dallas. We want to see it through and get After8toEducate,[a shelter and drop-in center for homeless Dallas students] open. That will open at the end of this year. Frazier House, which is a social wrap-around service because as we understand Dallas is No. 4 in poverty, we want to get that open so we can start reaching our kids in a greater way for those things that impact them outside of the school day. Those are just a few things that I want to finish and accomplish.
HENRY: So I want to go back to the first question first. When we talk about the state of District 9 and what we're not providing for our kids, they're academic achievement and outcomes are not where they need to be. I don't think we mentioned that before and we need to press on that. The kids are the most important, and to provide our confidence is the most important. So the three things I want to focus on is with the first being along the lines of providing for our kids quality early childhood education. What that means in particular is I want to focus on literacy. Our babies need to read before third grade. If we don't have them reading before third grade, they're going to be playing catch up for the rest of their lives. In addition, we need to make this early pre-K viable and accessible to all families. Not half day, not ending at 4 p.m., not ending at 5 p.m. but ending when we get off work. The second thing is racial equity. I told you about the story about me growing up. Still today, Black boys are under-educated and overdiscplined in our district and there's other inequities that are within our system that we need to break down and dismantle. The third piece I want to focus on a a former educator and math teacher is elevating teaching as the profession that it is. Teaching is the most important profession out there and we need to treat it that way and support our teachers that way.