Texas primary turnout buoys Democrats' hopes again
WILL WEISSERT and PAUL J. WEBER | 3/19/2018, 10:32 a.m.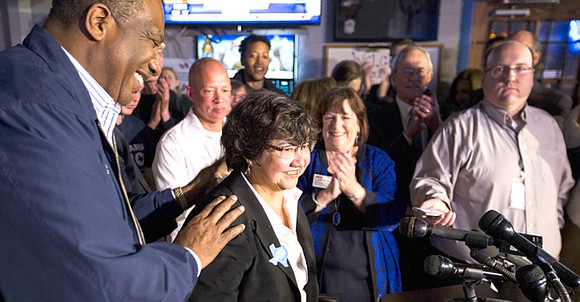 Associated Press
AUSTIN – Texas is the latest place where Democrats are finding optimism for 2018 after kicking off the nation's primary election season with their biggest midterm turnout in more than a quarter-century.
But beneath the eye-opening numbers – more than 1 million votes cast for Democrats Tuesday night, their strongest showing in a Texas midterm primary since 1994 – lurk buzzkills for a party eager to believe that the GOP will pay in November for the erratic presidency of Donald Trump.
Republicans still won the turnout battle in Texas by a half-million votes. The brightest star on the ballot for Democrats, Senate challenger Beto O'Rourke, revealed weak spots after letting two primary rivals take 38 percent of the vote. And he's the biggest draw on a Democratic ballot that is otherwise littered with little-known candidates for statewide office who've struggled to raise attention and money.
"When you net the results, there are hundreds of thousands more voting in the Republican primary than the Democratic primary, so we absolutely have our work cut out for us," O'Rourke said by phone March 7. "This is an uphill, very tough fight for the next eight months."
About failing to win such a high percentage of the vote against overmatched rivals, O'Rourke noted that he has focused on campaigning all over Texas, including strongholds for those who cast ballots in the Republican primary.
"We could concentrate in blue parts of Texas and really run up the score in the primary," he said. "Or we could walk the walk. Talk to every Texan in every part of the state."
Since Trump took office last year, Democrats have seized on surprises on Republican turf as signs that a midterm reckoning is afoot – winning a U.S. Senate seat in Alabama, wiping out a GOP majority in the Virginia statehouse, flipping a Wisconsin state senate district that overwhelmingly backed Trump a year earlier. In Texas, where Republicans haven't lost a statewide race since 1994, Democrats are especially starved for an upset.
Tuesday's primary made clear Democratic enthusiasm is real, but in Texas, the party still faces long odds.
"The votes have been counted and we know that so-called `blue wave' never made landfall," Republican Lt. Gov. Dan Patrick said March 7, referring to the GOP voters still turning out in greater numbers. Patrick himself sailed past a little-known GOP primary challenger and is expected to have an even easier time against only token Democratic opposition in November.
More than 1.5 million people voted Tuesday in the GOP primary for U.S. Senate, won by incumbent Ted Cruz. The turnout for Republicans was mostly in line with primary midterms in 2014 and 2010. Democrats, meanwhile, nearly doubled their numbers from four years ago behind big increases around Dallas and Houston, but the GOP still had the upper hand in rural and suburban counties.
Texas has a record eight open congressional races this year, including two currently held by entrenched Republicans who opted against re-election amid scandal. Republican pollster Chris Wilson, who has worked for Cruz, said the turnout surge to him reflected the number of open races while Democrats pinned the increase on Trump backlash and enthusiasm.