Black woman golfer: It was like we had targets on our backs
ERRIN HAINES WHACK | 5/8/2018, 11:59 p.m.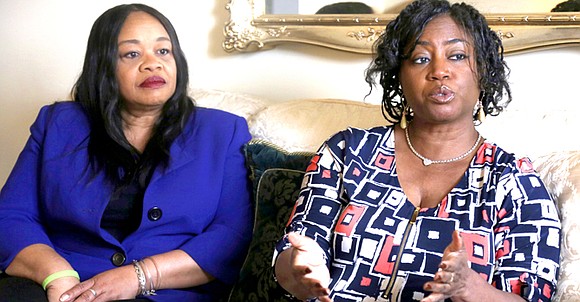 YORK, Pa. (AP) – When she walks onto a golf course as one of the few Black women on the links, Sandra Harrison fills with pride and hopes her play will dispel stereotypes and disarm her fellow players – who are often White and male.
What she felt playing at the Grandview Golf Club, as a new member in her community could not have been more opposite, Harrison said. The 59-year-old retiree said she was traumatized, rattled and hurt after she said she and the group of Black women she was playing with were run off the course before police were called when a White man claimed the women were playing too slowly.
"It was like we were playing with targets on our backs," Harrison said. "What other reason could there be other than we were guilty of being Black while golfing?"
No charges were filed, but the confrontation Saturday touched a raw nerve after two other somewhat similar incidents. Two Black men in Philadelphia were handcuffed and arrested April 12 after a Starbucks employee called police because they hadn't bought anything in the store. And employees of an LA Fitness in New Jersey wrongly accused a Black member and his guest of not paying to work out and called police, prompting an apology from the company.
Harrison and Sandra Thompson said they were at the second hole when representatives of the Grandview Golf Club told the group they were playing too slowly.
"We knew we snapped those balls and moved right ahead," Thompson said in an interview.
According to Thompson, one of the other women said she was confronted by a man with a posturing, aggressive demeanor and exclaimed, "You need to move forward. I'm the owner."
Not wanting to lose the day, the group attempted to power through the front nine, Harrison said, but the confrontations made them increasingly upset and unable to concentrate on the game.
After the ninth hole, three of the women dropped out and headed home.
"I said, 'I don't want to do this anymore,'" Harrison said. "I was traumatized."
Down to two players, Thompson figured she and her partner could continue without being bothered. Again, they were approached.
The message this time, "Get off our property." The women were informed the police had been called.
After they were questioned, police declined to proceed further. Thompson said she was offered a check refunding her membership, but refused.
On Sunday, club co-owner JJ Chronister told the York Daily Record she called the women personally to "sincerely apologize."
On Monday, she issued a second statement to the newspaper saying players who are slow typically leave the course when asked by club personnel.
"In this instance, the members refused to leave so we called police to ensure an amicable result," the statement read. It said the women skipped holes and took an extended break.
"During the second conversation, we asked members to leave as per our policy noted on the scorecard, voices escalated, and police were called to ensure an amicable resolution."