#AgainstAllOdds: Shaquem Griffin makes NFL history
BARRY WILNER | 5/9/2018, 12:10 a.m.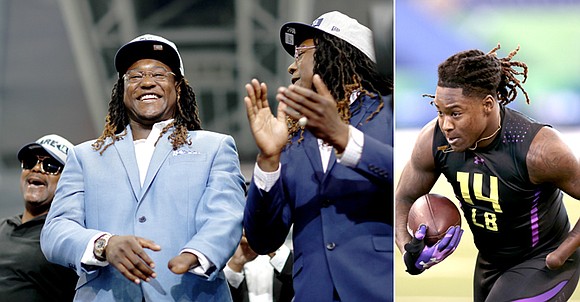 ARLINGTON (AP) – When Shaquem Griffin's name was called, the crowd loved it.
Players in attendance not selected in the first two days of the NFL draft usually head out of town before the fourth through seventh rounds.
Griffin, who sat through 100 names being called in the first three rounds, wasn't in AT&T Stadium Saturday.
Then after much anticipation, the crowd cheered as Seattle spent the 141st overall selection on the University of Central Florida Golden Knights linebacker who plays with just one hand.
That fifth-round choice, announced in Seattle, drew loud cheers from fans at Jerry's World.
Griffin, whose left hand was amputated when he was young due to a rare prenatal condition, has become an inspirational role model and one of the most popular players in this draft because of his perseverance, outgoing personality and, of course, his talent.
"I mean that was amazing," Griffin said. "To even have an opportunity to come back, I didn't think I was going to be able to come back and do it ... I don't remember seeing too many people who have left and came back.
"That was the most amazing experience of my entire life. Me thinking about it that moment, to be up on that stage and having the crowd go crazy, it was like we had won the Peach Bowl all over again. It was nuts."
Griffin helped UCF go undefeated last season, then blew through the NFL combine with a 4.38 in the 40, sensational lifting work with his prosthetic, and a can-do attitude.
Exactly the sort of player the Seahawks seem to find; they drafted his twin brother, Shaquill, out of UCF last year.
"It's been a really good experience," Shaquem said. "I would have been crazy to turn an experience down like this. I'm just glad I was one of the selected few to be here."
Griffin had one of the more unusual ways of finding out he was chosen.
"I was using the restroom and my brother came and tackled me with my cellphone, saying 'answer it, answer it,' and I looked, and that's when tears started pouring down," Griffin recalled.
"I literally went to use the restroom and that's when my brother busted in and tackled me. I think I was more scared of him tackling me in the bathroom and not knowing what was happening than anything."
Griffin received, by far, the biggest cheers of the day – louder even than when the Cowboys' selections were announced. And he made a promise: "Great things are coming to Seattle."
Since being drafted, younger athletes across the country have expressed how Griffin – whose hashtag is "AgainstAllOdds" – has inspired them to pursue their dreams.
Griffin's selection early in the fifth round enlivened a day in which most picks are relatively unknown or obscure players. Not all, though.
Michigan defensive tackle Maurice Hurst was taken one spot in front of Griffin by Oakland. The All-American would have gone much earlier, but a heart condition was discovered at the combine, dropping him far down draft boards.