#AgainstAllOdds: Shaquem Griffin makes NFL history
BARRY WILNER | 5/9/2018, 12:10 a.m.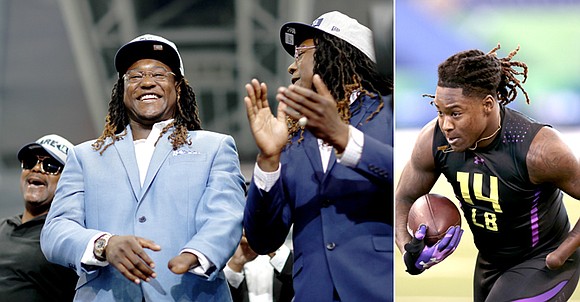 He had 51/2 sacks as an interior rusher and led all nose tackles and defensive tackles with 49 total quarterback pressures, according to Pro Football Focus.
"It's tough thinking that you're one of the top players in the draft and having good tape and everything like that, just having to wait," Hurst said. "You believe you're better than guys who go ahead of you is tough. I'm just happy to be in the right place and a great organization."
As for his health, "I'm ready to go right now."
Another All-American, Iowa linebacker Josey Jewell, was taken by Denver at No. 106. He's not considered quick, but he is active and seemed to be in on every tackle for the Hawkeyes.
"A lot of that is instincts. A lot of film watching for me," he said. "It really helped me because I did not run the fastest time ever, not even close. I had to be able to make up from somewhere else."
Other notable draft picks:
• Michigan State extended its streak of having at least one player selected to 78 years when Brian Allen went to the Rams early in the fourth round. Only Michigan and USC have longer streaks, both extended to 80 years during the first two days of the draft.
• The Giants took the first quarterback of the third day, Richmond's Kyle Lauletta at No. 109. The Giants passed on trying to get their quarterback of the future to replace Eli Manning in the first round, taking running back Saquon Barkley at No. 2 overall. Lauletta doesn't have a big arm, but he showed good athleticism and accuracy playing at the FCS school.
Other quarterbacks chosen: Western Kentucky's Mike White to Dallas; Washington State's Luke Falk to Tennessee; Nebraska's Tanner Lee to Jacksonville; LSU's Danny Etling to New England; Florida International's Alex McGeough to Seattle; and Toledo's Logan Woodside to Cincinnati.
• Dallas acquired wideout Tavon Austin from the Rams in a trade Saturday.
• Cleveland used a fourth-round pick, No. 105 overall, to take one of the draft's most talented but troubled wide receivers: Florida's Antonio Callaway. He had multiple suspensions while playing with the Gators, missing all of last season because of his part in a credit card fraud scheme.
When Callaway plays he is a deep threat receiver and dangerous return man, but he could be the next Josh Gordon, who has had many off-field issues and NFL suspensions with the Browns.
• Wisconsin tight end Troy Fumagalli, who is missing the index finger on his left hand, went to Denver in the fifth round.
• Three punters were taken in the fifth round.
Michael Dickson, the Australian from the University of Texas, was picked 149th overall by Seattle. Alabama's JK Scott was drafted 172nd overall by Green Bay, a pick before Oakland took Johnny Townsend from Florida. Townsend was the NCAA leader last season with a 47.5-yard average on his 64 punts.
In 1988, there were three punters selected in the first 102 picks. Tom Tupa, who also went 4-9 as a starting quarterback during his 16 NFL seasons, and Greg Montgomery were both taken in the third round and became All-Pro punters. Barry Helton was a fourth-round pick.
One more punter, Logan Cooke of Mississippi State, was chosen by Jacksonville, and the only placekicker taken was Jason Sanders of New Mexico by the Dolphins.