Mortgage leader battles Black homeownership crisis
Hazel Trice Edney | 5/14/2018, 5:47 p.m.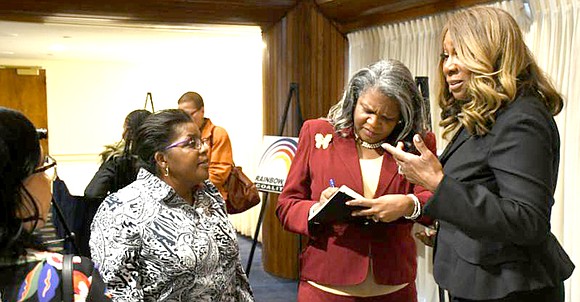 (TriceEdneyWire.com) – As America commemorates the 50th year of the Fair Housing Act, the unpromising numbers have been repeated often: "The gap between White and Black homeownership is wider now than it was in 1960," PBS reported earlier this year.
The reasons vary. In a nutshell, redlining, credit issues and race discrimination have been blamed for the homeownership disparity that partially results in the median net worth of White American families being 10 times greater than Black Americans, according to The New York Times.
But America does not lack those who, not only monitor such statistics, but those who feel a charge to bring fairness and equality to the unjust situation that the numbers reveal. Lois Johnson, founder/CEO of United Security Financial Corp, is one of those people who recognize the crisis in Black homeownership and are determined to do her part to rectify it.
The former real estate sales agent and full-time accountant for the United Parcel Service believed a deficiency in financial education is a large part of the problem. She came to this conclusion after she found she could not acquire loans for people to whom she had sold a house without having to "put up a fight." And on top of that, she couldn't get a loan for her own church.
"I was a member of Faith Temple Pentecostal Church here in Salt Lake City, Utah, and I was the business manager for the church. And we ran into a problem just trying to get a commercial loan for the church. And I said, 'Well, that's it.' I said, 'I think I'll just try doing this myself.' I became a loan officer. I got really good at it," Johnson said. "And I was able to get more people loans so I just took it from there and here I am today."
More than 30 years later, she is among the leading independent home mortgage lenders in the nation. Licensed to operate in 49 states, she is the country's only African American Ginnie Mae lender and is also an issuer of Fannie Mae, which is a conventional lender. But even after working in the homeownership industry for 38 years, she still sees a plethora of problems.
In her decades of experience, she has come to believe the Black homeownership crisis is still existent due to information about home buying and mortgage lending being withheld from African Americans. And she's decided to do something about it.
In the following conversation, Johnson answers key questions about issues that hinder home ownership.
Question: Why should homeownership be the centerpiece for a strategy to build legacy wealth in the African American community?
Johnson: Because a house is usually the largest item that will create wealth. Just think about it. If you buy a house and you stay in that house for a period of time, that house is going to become worth a lot more than what you paid for it. If you keep that house long enough the value of your home will grow. Then you can pull cash from your home and buy another home and still have value in it. On the other hand, big ticket items such as cars and boats depreciate and sometimes can't be resold or can only be sold for a lot less. But when you sell a house, you might get two, three or more times as much as you bought it for.