Mortgage leader battles Black homeownership crisis
Hazel Trice Edney | 5/14/2018, 5:47 p.m.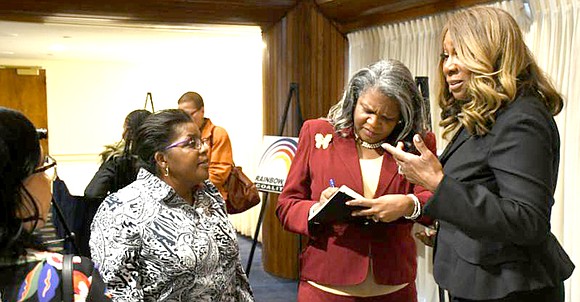 Q: What is the minimum credit score – or FICO score – required to purchase a home?
Johnson: The FHA [Federal Housing Administration] will take it at maybe 540. Most lenders won't go any less than 620. That's about the lowest FICO that the average lenders will take - including Ginnie Mae and Fannie Mae lenders. If we get too many low FICO scores it could cause our ratings to go down which could cause us to lose our Ginnie Mae licenses. That's why Ginnie Mae issuers and Fannie Mae issuers don't like to take low FICO scores. They're putting themselves in jeopardy. Now, on the flip side of that, there are ways in which you can increase your FICO [credit] score.
Q: What is the best way to repair and increase one's credit score?
Johnson: You may go to a credit repair agency or your lender can also tell you what to do. Then there are things that you can do on your own. For example, if you have a charge card and your limit is $1,000, your balance should never be any higher than 75 percent. In other words, you should never charge over $750, which is 75 percent of your loan limit. That will maintain your FICO score. Also, there may be collection items on your credit report that may be removed with a vendor settlement. That will increase your FICO Score as well.
Q: What are some of the greatest obstacles to increasing your credit score and what can be done about them?
Johnson: Child support. Communicate with the child support recipient to make sure the amount on your credit report is accurate. If it is not, the recipient can draft a letter correcting the information that's in the bureau. The agency then has to correct the information that's been reported. This will increase your FICO score.
Also, always pay your bills on time. Some people think, well, if I pay it a day late, then that's not bad credit. But that's a late payment. As long as you pay that bill before the next payment is due, then that company will not report you as late.
Finally, if you have student loans and every last one of them are late that pulls your credit score down. Whatever agency you're paying for the student loan, have them combine them into one loan. Then have them make an adjustment on the payments. This will lower your debt ratio and enable you to make your payments on time. This will certainly increase your FICO score.
Q: What are the psychological impediments to homeownership?
Johnson: You shouldn't listen to everything that people say. For example, it is said that you must have at least a 20 percent down payment to purchase a home. That's just hearsay; in fact, you may purchase a home for as little as 3.5 percent down payment on an FHA loan or 0 percent down on a VA loan. And you may pay 3 percent or 5 percent down on a conventional loan. Also, there are many lenders who offer down payment assistance, such as United Security Financial [For more information, call 1-800-373-4186].