Democrats, GOP target voters behind cracked 'blue wall'
SARA BURNETT and DAVID EGGERT | 5/21/2018, 3:55 p.m.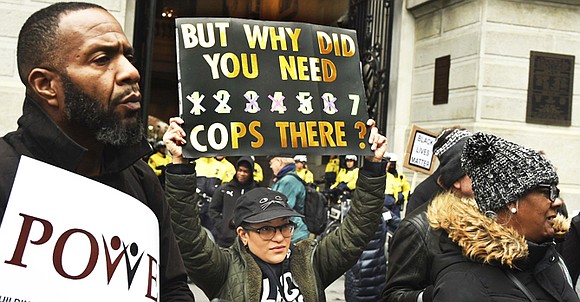 WASHINGTON TOWNSHIP, Mich. (AP) – Automotive engineer Steve Semian credits Barack Obama with rescuing the auto industry and with it, much of Michigan. But the 47-year-old from Macomb County, north of Detroit, said it was the state's Republican governor, Rick Snyder, who "helped us pull through" after a long economic downturn. And now it's President Donald Trump who's fighting to restore the country's manufacturing might.
So as the midterm elections approach, Semian is leaning Republican.
"Of course we can always point and find blame and all the other rhetoric that's going on with all of [Trump's] personal issues," he said as he watched his 7-year-old son's baseball practice outside an elementary school last week. "But as the end result, he's keeping our jobs stable."
Both parties are paying particular attention to the mood in places like this because of the decisive impact the upper Midwest had in the 2016 presidential race, and could have again this fall in determining control of Congress.
Michigan, where Trump will travel this weekend for a rally, is one of the states that Hillary Clinton counted on to help her win the presidency in 2016. Instead, its voters – part of a so-called "blue wall" that traditionally backed Democrats for president – delivered Trump to the White House.
At stake this fall in the region are roughly a dozen closely contested congressional races that could help swing the House, where Democrats need to pick up about two dozen seats for a majority. Democrats also will try to win back governorships in Michigan, Wisconsin and Iowa, and keep Senate seats in Michigan and Wisconsin.
Macomb County, the site of Trump's rally, is among the predominantly White counties known as a base for "Reagan Democrats" – blue-collar voters who abandoned the Democratic Party for Ronald Reagan, but who can be intriguingly movable.
Obama won the county twice, and then Trump carried it by more than 11 percentage points.
To win statewide this year, Democrats must win over a lot of politically moderate people in places like Macomb County, plus coax more sporadic voters such as African American supporters in Detroit to the polls – a plan that fell short in 2014.
Both parties are focused intensely on Michigan's wealthiest and most educated congressional district to the west of Macomb – the kind with Republicans who are typically least enamored of Trump – where GOP Rep. Dave Trott is retiring. A large field of candidates includes business executive Lena Epstein, an ardent Trump supporter, and Democrat Suneel Gupta, a former Groupon executive.
In the governor's race, Attorney General Bill Schuette, who will attend this weekend's Trump rally in Washington Township, is leading the GOP field, while former legislative leader Gretchen Whitmer is considered the Democratic front-runner.
Democrats are emboldened by recent wins in places like Pennsylvania and Wisconsin and by the high emotions of their backers. Last week, a fired-up crowd of 6,700 flooded a state party convention. Later, Whitmer said enthusiasm across the state is "like nothing I've ever seen before" and declared, "We are on the brink of a big change in Michigan."