Democrats, GOP target voters behind cracked 'blue wall'
SARA BURNETT and DAVID EGGERT | 5/21/2018, 3:55 p.m.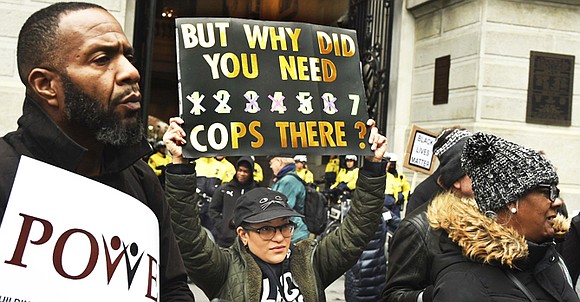 Still, many are skeptical about a new blue wall in a place where Republicans have dominated state government for the last seven years.
"I think what we had was an Obama wall," said Michigan Democratic Party Chairman Brandon Dillon. In addition to winning traditionally Democratic-friendly young people, moderate independents and African Americans, Obama swept some conservative counties after his aid for the auto industry.
"To the extent that we can rebuild, I think that's really what we're trying to focus on: How do we put that coalition back together?" asked Dillon.
How Michigan's economy will affect the election is debatable. While the state is in its ninth straight year of recovery, not all the jobs are back, and crumbling infrastructure, especially potholed roads, is high among voter concerns.
The Michigan Democratic Party hired six regional coordinators in early 2017, and is now spending 30 to 40 percent of its budget on its ground game, up from barely 5 percent in 2015.
Matt Morrison, director of the AFL-CIO-affiliated organization Working America, said Democrats need to work on their message.
"People are really keen on understanding 'How am I going to make a living and what's the future hold for me?"' said Morrison, whose organization is conducting one-on-one "front porch conversations" with voters.
In the African American community, where Democrats need strong turnout to win statewide, there's worry about a drop in turnout of 5 percentage points in Detroit in 2016 and the fact there's no viable African American Democratic candidate for major office this year.
Democrats aren't the only ones counting on strong feelings about Trump.
Trump's Michigan admirers are "very, very passionate about the president, and those people are still involved," said Juston Johnson, political director for the Republican National Committee.
The RNC has been training thousands of volunteers and talking up issues that "test off the charts" in the state, such as infrastructure investment and pursuing trade deals favoring American workers, said Johnson.
Take voter Terri Rogulski, a real estate agent from Washington Township, where new housing developments seem to be going up all over the place. She said 2017 was a peak year for her industry, which she attributes to tax cuts and the strong economy.
Rogulski plans to vote Republican in 2018.
"Everything's good. My paychecks are larger. I like that," she said. "We needed a change and we got one."