Man claims police brutality after arrest at Waffle House
CASH MICHAELS | 5/29/2018, 8:54 p.m.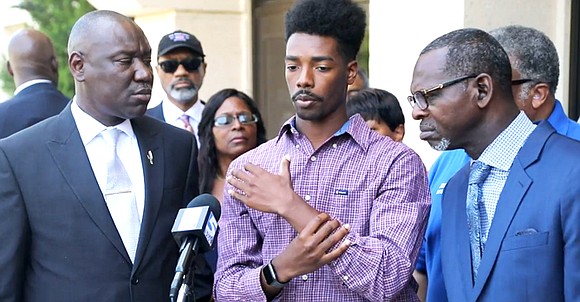 The Wilmington Journal
A videotape of a May 4 arrest showed 22-year-old Anthony Wall of Fayetteville by a Warsaw police officer outside of a Warsaw Waffle House.
Attorney Benjamin Crump, well-known nationally for his advocacy of alleged police abuse victims, called the incidents surrounding the arrest "excessive police force" when he appeared with Wall and Fayetteville Attorney Allen Rogers during a May 7 news conference in front of the Cumberland County Courthouse.
Crump said he also wanted to see the police dashcam video, as well as video from inside the Waffle House restaurant to determine all of what was said and done, leading up to and including the smartphone video that purportedly shows Warsaw Police Officer Frank Moss with his hand tightly around Wall's throat, slamming him against the restaurant's outside window and then body slamming him to the parking lot pavement.
The video has spurred cries from national leaders.
Rev. Bernice King, CEO of The King Center in Atlanta. King – daughter of late civil rights leader, Dr. Martin Luther King Jr. – tweeted upon reading a story about the incident, "Family, let's stay out of Waffle House until the corporate office legitimately and seriously commits to 1. Discussion on racism, 2. Employee training and 3. Other plans to change and until they start to implement changes."
King was referring to, not just the May 4 incident, but an earlier controversy at a Waffle House in Alabama where White police officers arrested a young Black woman, wrestling her to the ground and, according to video of the event, exposing her breasts while handcuffing, while one officer threatened to "break her arm" if she did not comply.
The NAACP Legal Defense Fund called the incident, and specifically the police officer's alleged chokehold, "grossly inappropriate."
The video has raised questions about whether Moss could have employed a far less violent manner to subdue Wall.
Wall had escorted his 16-year-old niece to her prom and had taken her to the restaurant afterward to eat. However, because of a busy night, all of the tables had not been cleaned for them to be seated, reportedly.
Wall and his niece sat down at a dirty table, reportedly, and words were exchanged with a Waffle House employee.
Reports indicated that the police were called after an allegedly boisterous confrontation between Wall and the staff member inside the restaurant.
A video posted to the Duplin Times Facebook page shows a young Black man with a young Black female, both formally dressed and standing at a table inside the restaurant, yelling and cussing at personnel. There are other African American teenagers in the video who also appears to have attended a prom.
The next scene in the video shows a different angle as Moss arrests Wall. The officer took the young man down on the ground and another officer in a dark uniform assisted in handcuffing Wall before he was taken away.
Wall was later charged with resisting arrest and disorderly conduct. He said he offered no resistance while being arrested outside.