Man claims police brutality after arrest at Waffle House
CASH MICHAELS | 5/29/2018, 8:54 p.m.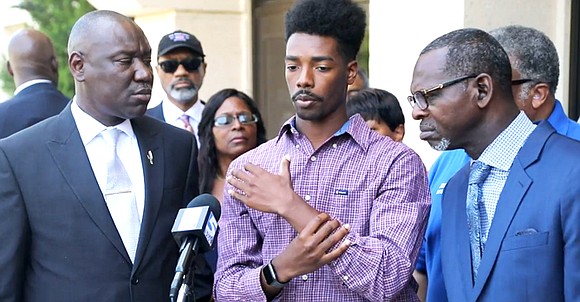 During the news conference, flanked by his attorneys, Wall alleged that police personnel mistreated him after his arrest, which included being thrown into a police cruiser with an aggressive police dog.
Crump indicated that a lawsuit is most likely in order against the Warsaw Police Department, and most likely Waffle House, as well. He alleged that his client was the target of gay slurs from at least one restaurant employee, thus causing the confrontation before police arrived.
The open question now is, once Moss arrived, how did he try to defuse the volatile situation and did he consider the admittedly angry Wall such a threat that the officer was justified in using near lethal force?
In a videoed message last week, Warsaw Mayor A. J. Connor said that Moss was justified in containing Wall in the manner in which he did because the "young man had broken the law, … and refused to cooperate…"
The mayor added that the State Bureau of Investigation is probing the matter. So is the Warsaw Police Dept.
Moss remained on the job during the course of the investigation.
Crump, a native of Lumberton, called what happened to Wall "… a gross violation of his civil and human rights."
In his video, Connor insisted that what happened to Wall was not "race related."
However, Crump and others disagree, asking if Wall were White, would he have been treated in the same fashion?