A need for jobs and justice in our community
EDDIE BERNICE JOHNSON | 5/29/2018, 12:02 p.m.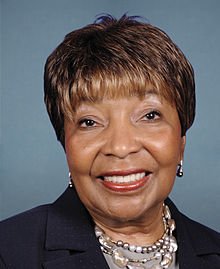 U.S. House of Representatives
During a recent press conference held in the nation's capital, I joined my colleagues in the Congressional Black Caucus in proclaiming the need for jobs and justice for members of our nation's African American community, and for all of others whose lives are facing the indifference and cruelness of those in government who want to retard the economic progress that our nation and its people have made during the course of the last 30 years.
Joined by House Minority Leader Nancy Pelosi, Urban League President Marc Morial and House Democratic Whip Steny H. Hoyer, we presented a 1300 page comprehensive piece of legislation to the Congress and the White House that addresses the ailments that confront members of the African American communities whose economic needs are being ignored by the current administration and its allies in Congress.
Among other things, the proposed legislation calls for a $100 billion investment to repair the nation's public schools and enhancing the ability of those institutions to compete in our nation's digital environment. It includes tax incentives to hire unemployed young people, veterans and others who find themselves without work and a livable wage.
Under our proposal the federal minimum wage is raised to $15.00 an hour and monies are provided to establish neighborhood business incubators for small businesses, and for those who are starting businesses.
In order to create a more justice society and to right the wrongs that have been visited upon communities of color, the legislation proposes the end to mandatory minimum prison terms for those convicted of federal drug crimes. It calls for the end to the federal death penalty, decriminalizes marijuana and creates an investment fund for communities that have been adversely impacted by the fruitless 'War on Drugs.'
To assist institutions that educate the majority of the nation's African American college students, the legislation provides crucial funding for Historically Black Colleges and Universities. It also calls for making Pell Grants available to ex-offenders.
Recognizing the importance of larger numbers of voters participating in our federal election, we call for making presidential and congressional midterm elections federal holidays. This would ensure greater participation in our election, and would encourage greater citizen participation in the selection of our leaders.
The legislation calls for the restoration of the Voting Rights Act that was gutted by a majority on the Supreme Court, which removed a requirement that states with a history of racially tainted voting practices have their election plans approved by the U.S. Justice Department.
We believe that if these measures and others were passed by the Congress and signed into law by the president that our nation would become a more welcoming place for its minority citizens than it is at the moment.
Our nation would be better and that the world would truly look upon our democracy as one in which all people were treated with justice and fairness. That is what we believe, and that is what we have proposed!
U.S. Representative Eddie Bernice Johnson is the ranking member of the House Committee on Science, Space and Technology and the highest-ranking Texan on the House Committee on Transportation & Infrastructure. She represents the 30th Congressional District of Texas.