Why the candidates are arguing more about health care than Trump in Texas' top races for Congress
ABBY LIVINGSTON and PATRICK SVITEK | 11/5/2018, 1:02 p.m.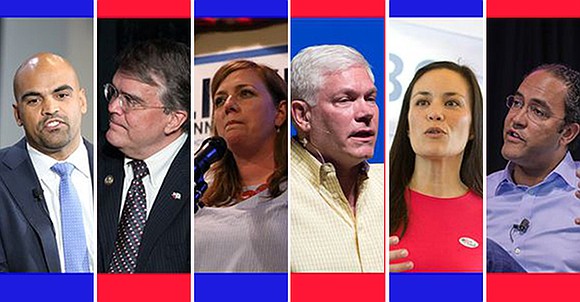 (The Texas Tribune) – The focus is not on President Donald Trump or whatever is on cable news on a given day – health care is the dominant issue in Texas' most competitive congressional races.
With early voting underway, Democratic challengers are relentlessly pushing the issue on the air, on the campaign trail and on debate stages. And Republican incumbents, many facing their first real races in a long time, are moving to defend their records after years of GOP orthodoxy against the Affordable Care Act, while also seeking to paint their opponents' health care views as too extreme.
The health care battle is unfolding most sharply in the state's three biggest U.S. House contests, where Democrats are mounting highly competitive bids to unseat GOP U.S. Reps. John Culberson of Houston, Will Hurd of Helotes and Pete Sessions of Dallas. But the fight is also spilling into the U.S. Senate contest and House matchups in traditionally Republican territory.
Buoyed by poll numbers and Republicans' defensive moves, Democrats are convinced health care will be decisive this November.
"It's our view this election is a health care election," said Amanda Harrington, a spokeswoman for Protect Our Care, a pro-ACA group that has done polling in Culberson's and Sessions' districts. "Republicans know they're on the wrong side of this issue, and they're scrambling to make up for lost time."
Harrington and other Democrats point to things like Sessions earlier this month introducing a nonbinding resolution to protect people with pre-existing conditions – a provision at the heart of Democrats' health care messaging this cycle. Sessions' opponent, Colin Allred, denounced the resolution as a pre-election Hail Mary, calling it the "worst kind of Washington politics."
Republicans, though, see ample opportunity to play offense on the issue, too. Texas GOP Chairman James Dickey said in an interview that there is "no question" that the best response to Democrats' health care attacks is to emphasize the proposals coming from some in their party that would grow the government's role in the system.
After ACA, "the next Democrat solution is to bankrupt the entire country even faster by doing 'Medicare for All,' which [is] projected to cost over $32 trillion over the next 10 years and still would not solve the problem," Dickey said, referring to a July study from a libertarian think tank. "The issue is that health insurance spending needs to be fixed, and every time Democrats double down on government involvement and manipulation of the health insurance market, they only serve to make it worse."
Republicans' yearslong push to dismantle "Obamacare" came to a head last year with the American Health Care Act, which passed the House but died in the Senate. Every House Republican from Texas voted for the legislation except for Hurd – and even then, his split from his party has done little to shield him from Democrats' health care offensive. His opponent, Gina Ortiz Jones, has blanketed the airwaves with ads focusing on the eight votes he cast in opposition to "Obamacare" prior to the AHCA debate – votes, he has argued that were on bills "substantively different" from the AHCA.