Texas 2018 midterm election results
The Texas Tribune | 11/10/2018, 8:47 p.m.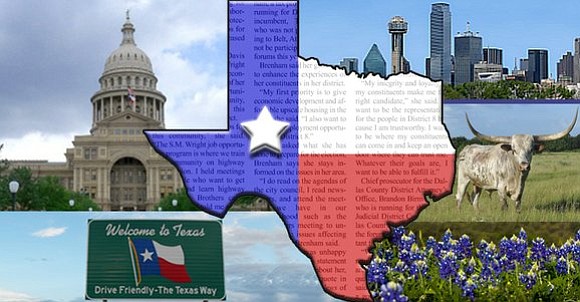 On Tuesday, Texas voters decided who will represent the state in the first national election of the Donald Trump era. Democratic U.S. Rep. Beto O'Rourke fell to Republican incumbent Ted Cruz in a U.S. Senate race that has garnered national attention. Meanwhile, Democrats picked up two U.S. House seats. See the results in statewide races for governor and more, including dozens of Texas Legislative seats and judicial positions.
Projected winners as of print deadline:
Dallas County races
Texas sends 36 representatives to the U.S. House, the second most of any state. Each representative serves a two-year term.
U.S. House - District 30
D ✓ Eddie Bernice Johnson [Incumbent] 166,102 91.1%
L Shawn Jones 16,318 8.9%
U.S. House - District 5
R ✓ Lance Gooden 130,404 62.4%
D Dan Wood 78,394 37.5%
U.S. House - District 32
D ✓ Colin Allred 142,885 52.2%
R Pete Sessions [Incumbent] 125,600 45.9%
Texas Senate - District 23
D ✓ Royce West [Incumbent] 191,215 100%
Texas House - District 100
D ✓ Eric Johnson [Incumbent] 33,751 100%
State Board of Education - District 13
D ✓ Aicha Davis 308,649 76.3%
R A. Denise Russell 95,801 23.7%
Criminal District Attorney
D ✓ John Creuzot 421,796 60.1%
R Faith Johnson [Incumbent] 280,016 39.9%
U.S. Senate
This election is for one of Texas' two seats in the U.S. Senate. Cruz has held the position for one term after he won the seat in 2012.
It was by far the most competitive statewide race this cycle – and the most closely watched beyond Texas. O'Rourke, a member of Congress from El Paso, ran a massively funded campaign against Cruz, traveling the state relentlessly in hopes of becoming the first Democrat to win statewide office in Texas in more than two decades.
Cruz, meanwhile, attacked O'Rourke for being too liberal for Texas while warning the GOP base not to underestimate intense Democratic enthusiasm.
U.S. Senate
R ✓ Ted Cruz [Incumbent] 4,240,942 50.9%
D Beto O'Rourke 4,017,851 48.3%
Governor
The governor is the chief executive of Texas. The seat hasn't been held by a Democrat since 1995. Typically a blockbuster attraction, the governor's race this year was a snoozer, unfolding in the shadow of the nationally watched U.S. Senate race.
Valdez, the former sheriff of Dallas County, ran as a scrappy champion of the working class, while Abbott, coming out of his first term, mostly ignored her as he boasted of how the quality of life in Texas has progressed under his leadership.
Abbott also used his massive political operation and fundraising haul to help down-ballot candidates who are in much more competitive races than he is.
Governor
R ✓ Greg Abbott [Incumbent]
4,634,885 55.9%
D Lupe Valdez 3,523,210 42.5%
Lieutenant Governor
The lieutenant governor, the second-highest executive in the state, presides over the state Senate and heavily influences the state budget.
Patrick is the favorite to keep his seat. To win, Collier is relying heavily on Democratic enthusiasm and hoping to siphon off Republican support from Patrick, who drew 76 percent of the vote in March against a more moderate primary challenger. Collier is particularly focused on courting working and retired teachers.