Texas Dems hoped for historic wins in 2018: What they got instead was hope for 2020
EMMA PLATOFF | 11/10/2018, 7:45 p.m.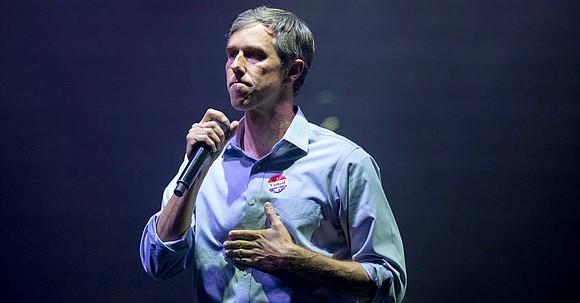 (The Texas Tribune) – Texas Democrats on Tuesday came closer than they have in two decades. But the "blue wave" many had hoped for failed to crest over the state.
For the 20th year running, Republicans swept every statewide election in Texas, soaring to victories in the governor's mansion, the attorney general's office and the U.S. Senate, the most closely watched top-of-the-ticket contest.
El Paso Democrat Beto O'Rourke lost a hard-fought, nationally watched U.S. Senate race to incumbent Ted Cruz. The margin was just three points – a tighter race than Democrats have achieved in years. And mere single digits elected several statewide Republican incumbents.
It is a weaker grip than Texas Republicans have held in decades. But it is a full-fingered grip nonetheless – the party maintained control of the two high courts and kept dominant majorities in both houses of the state Legislature and in the delegation to the U.S. Congress.
In 2018, in a midterm expected to rebuke a GOP-dominated federal government and a controversial occupant of the White House, Texas Democrats saw an opening for historic victories. Instead they found hope for 2020.
Texas Democratic Party Chair Gilberto Hinojosa hailed the failure of the full slate as a victory, citing "the best statewide margin in a generation."
In his concession speech, O'Rourke was – as ever – optimistic.
"I am as inspired and hopeful as I have ever been in my life," a hoarse O'Rourke told a crowd of thousands in his home city of El Paso. "Tonight's loss has done nothing to diminish the way I feel about Texas and this country."
One source of Democratic optimism: single-digit victories for a handful of Republican incumbents who swept into office by double digits in 2014.
Even as Gov. Greg Abbott easily won a second term, winning some 56 percent of the state, other top incumbent Republicans trailed him significantly. None struggled more than Attorney General Ken Paxton, who has served most of his first term under indictment for securities fraud. In 2014, Paxton won his first term by 21 percentage points; this year, that margin of victory was about four points.
Democratic challenger Justin Nelson ran a particularly tight race, following an aggressive campaign built around Paxton's indictment, complete with a rolling billboard he called the "Mugshot Mobile." The campaign "isn't about right versus left," Nelson liked to say – "it's about right versus wrong."
Lt. Gov. Dan Patrick, who heads a socially conservative faction of the Republican Party, won another term on the dais with a five-point lead – less than a third of his 19-point victory in 2014. Patrick, a champion of "school choice" – programs that would give Texas families subsidies to send their kids to private schools – has drawn the ire of many education-minded voters, thousands of whom pledged to block-vote for his opponent, Democrat Mike Collier.
"Somewhere the Republicans are toasting, but their hands are shaking," Collier told a thinning but enthusiastic room of supporters at the Driskill Hotel in Austin late Tuesday night. "I ain't going nowhere."