Sankofa Garden Homes: Collard Greens Chicken Soup for the soul
CLARENCE GLOVER | 11/12/2018, 6:39 a.m.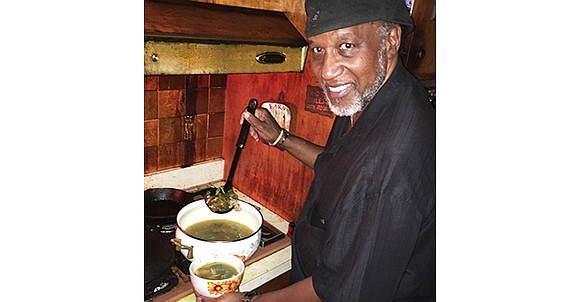 Sankofa Education Services
It has been said, "There is nothing new under the sun," particularly if you Google it today. While all my articles have been about Sankofa Garden Homes outdoors, this month my mind turned to what to do with the harvest – for which I am thankful – that I'll pick during this season of the year when I spend more time indoors.
As we begin to experience wetter and cooler weather, many of us contract a cold or the flu that comes with the season. After the heavy rains we recently had, I experienced coughing and chest congestion.
While it was not a cold or the flu, I began to feel uncomfortable, so I turned to my mother's cold remedy: Vicks VapoRub under heavy handmade quilts to sweat my congestion out and my maternal grandmother's old standby chicken soup.
After I began to prepare the chicken soup the way I learned from grandmother, I suddenly wondered how chicken soup would taste with the collard greens I raised, rather than the mixed vegetables I always bought at the store – unlike grandmother's mixed vegetables, which she raised in her garden in the front of her house.
So I picked some fresh collard greens from my Sankofa Garden in my front yard and chopped them up.
I then proceeded to gather other ingredients to add to my chopped, organic collard greens, leaves and stems. Because my collards are very tender, it takes no more than an hour and a half for the soup to cook. Below is the recipe.
Collard Greens Chicken Soup
Ingredients:
Chopped up skinless chicken thighs and legs (keeping bones in for flavor)
Purple onion
Red bell pepper
Garlic
Organic rosemary (raised in my garden)
Sea salt
Soul Food Seasoning (use when served to taste)
Black pepper
Curry
Ground paprika
Louisiana Hot Sauce (use when served to taste)
Traditionally as African Americans, we have cooked collard greens in a large pot of water, usually with a ham hock, until the greens were tender and the ham hock was done. We would then eat the greens and ham hock with canned yams and cornbread, often leaving the collard green juice in the pot.
This juice is known as "pot liquor." I have seen pot liquor thrown out time and time again in recent years, not realizing that this is where many of the nutrients are.
Many of our "Africans Who Built America" ancestors used to take the pot liquor in a bowl and crumble cornbread and eat it together. They would sometimes feed this mush of cornbread and pot liquor to babies.
Today, we do not see these traditions very often.
I began to wonder, how much healthier would my chicken soup be if I put in organic collard greens? Collard greens that would make pot liquor mixed with chicken broth and other herbs and spices, but no ham hock. A healthier alternative.
Whole Foods has stated that "collard greens are the new kale." Many African American have eaten collard greens for many years. While eating them, we have not known all the nutritional value they possess.