Savor simplicity: Holiday recipes worth sharing
Family Features | 11/18/2018, 6:11 p.m.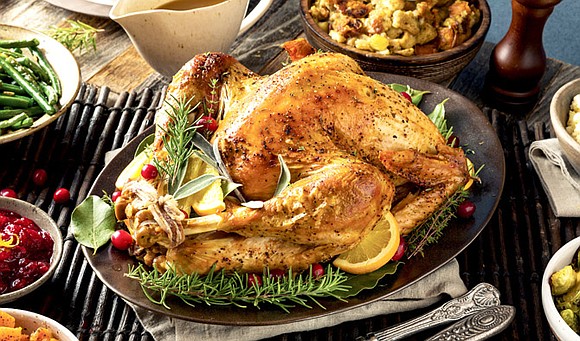 Family Features
Most great holiday gatherings start with great food and end with quality time spent with loved ones. This holiday season, rely on simple recipes that let you spend less time in the kitchen and more time celebrating special moments with family and friends.
As a holiday host, it may be tempting to explore complicated new recipes to lend a festive air to your seasonal celebrations. However, with the right ingredients, a simple recipe can be equally impressive. Delicious holiday dishes start with premium ingredients like Bertolli Olive Oils, which offer enough versatility to be a must-have kitchen accessory throughout the holiday season and onward. From soups to main dishes to desserts, the rich, quality flavor works for nearly every culinary occasion.
After a long day of checking items off your holiday shopping list, there's almost nothing better than a warm bowl of quick and easy Rustic Minestrone. This vegetarian classic is the perfect mix of marinara blended with aged cheeses, kale, zucchini and beans. One of the best parts: It can be on the table in 10 minutes, meaning less time cooking and more time spent stringing up holiday lights with family.
If you're looking for a simple way to put a new twist on your turkey, take it to the next level with a seasonal brine made with sweet Riesling, garlic cloves, thyme, fresh cranberries and olive oil. It's a hands-off way to make a tried-and-true dish a little more special.
Finally, when it's time to wind down the evening, delight guests by bringing back a classic dessert: chocolate chip banana bread. Served slightly warm with a side of fresh whipped cream or vanilla bean ice cream, it's a sweet finish to any gathering that family and friends are sure to love.
Find more simple recipes to enjoy during the holidays at http://www.bertolli.com.
Cranberry Riesling Brined Turkey
1 quart water
6 bay leaves
2 tablespoons whole black peppercorns
1 tablespoon mustard seeds
1 1/2 cups kosher salt
1 bottle (750 milliliters) Riesling wine
2 large shallots, thinly sliced, divided
8 cloves garlic, crushed but left in skins
1 bunch fresh thyme, divided
2 cups fresh cranberries, slightly crushed, divided
1turkey (16 pounds), giblet package and neck removed
ice water, for covering turkey
1/2 cup Bertolli Mild Olive Oil
salt, to taste
pepper, to taste
In pot, bring water, bay leaves, peppercorns, mustard seeds and kosher salt to boil. Stir until salt is dissolved. Cool to room temperature.
Pour brine into 5-gallon stock pot or container. Pour in wine then add one shallot, garlic, thyme (reserving some for stuffing turkey) and 1 cup cranberries. Slowly lower in turkey.
Pour ice water into pot to cover turkey. Place lid on pot and refrigerate at least 24 hours.
Heat oven to 500 F. Remove turkey from brine, pat dry and stuff with reserved shallot, thyme and cranberries.
Place turkey in roasting pan. Generously massage olive oil into skin of turkey. Sprinkle with salt and pepper, to taste. Use kitchen twine to tie legs together so turkey will keep its shape. Place in roasting pan and roast 20 minutes. Lightly brush skin again with olive oil, reduce heat to 350 F and roast until internal temperature reaches 155-160 F on meat thermometer.