Texas education board set to approve curriculum some say is historically inaccuarate
KATHRYN LUNDSTROM | 11/18/2018, 6:27 p.m.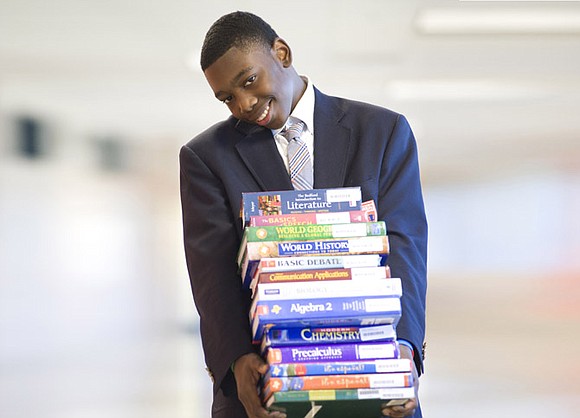 Reminders of the State of Texas Assessments of Academic Readiness, or STAAR test, are woven throughout Mondragon's lessons. In a lesson on World War II this fall, she paused after mentioning the Munich Conference, starring it on her smart board.
"Star," she told her students, "because it might come on the STAAR." Students in eighth and 11th grade take the social studies STAAR test.
But for teachers who teach a grade with no STAAR test, interpretation of the standards can be slightly less rigid. Francis, whose seventh-graders don't take the state standardized test, says he requires his students to search for evidence in primary source documents to support reasons other than slavery for Texas' involvement in the Civil War.
"As we do that, it becomes pretty clear that slavery was the cause of the Civil War," Francis told the board in September. "You can't find evidence to prove that anything else was."
Like most social studies teachers, Francis works to keep his personal politics out of the classroom.
"I don't share my political leanings with the children because that would be inappropriate," said Francis. "I specifically tell the children that history is a search for the truth and it isn't political. History can't be conservative or liberal, the truth just is."
His head-on approach to controversy, though, is relatively uncommon.
Julie Woodard, a sixth-grade teacher in Rockwall ISD, sometimes avoids looking at her students when she knows she's covering a sensitive subject.
"I will have times when I just look at the clock," said Woodard. "I say, folks, we have different opinions in the room, and I'm going to share this and this information.'"
Woodard doesn't share any of her own politics with the children.
"I mean, they know that caramel apples are my favorite food group, and they know that my grandkids are the cutest on the planet," she said, "but when it comes to something of a sensitive nature, that's not when you share your personal opinion."
For Mondragon, teaching along the border, there's a reticence to bringing up politics explicitly – though evidence of the political nature of her subject is sprinkled throughout her classroom décor.
On one wall, she has a poster that reads, "We did not cross the border, the border crossed us," a rallying cry of immigrants' rights activists. And notably missing from the long line of presidential portraits is the 45th – instead, a painted caricature of President Trump leaned against the wall at the front of the room.
But Mondragon's students said they want more guidance from their teachers about how to talk about politics.
"It's really difficult with all these political parties," said Laura Delgado, a junior in Mondragon's AP U.S. history class. "We always believe what social media says."
"It's really messy," said junior Rebecca Gomez. "I want to know about it, and I want to tell my mom about it."
They want a class specifically on civic engagement – something that would help them to feel more confident about how to vote when they come of age next year.