Hometown legend Ernie Banks immortalized at Booker T. Washington High School
SHAIA MOORE | 10/1/2018, 1:46 p.m.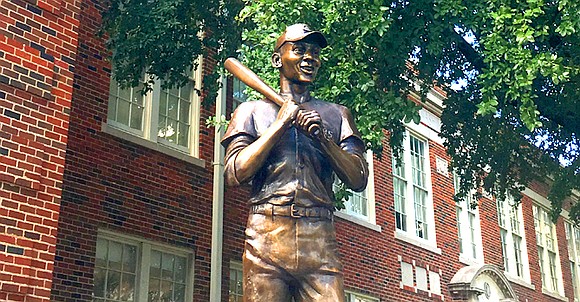 The Dallas Examiner
As cookie-cutter apartment complexes pop up across the city and gentrification looms over historic neighborhoods, Dallas is investing in projects that celebrate its past. In what was once Freedman's Town and is now the city's premier Arts District, generations of Dallasites gathered to see history immortalized through art.
On the afternoon of Sept. 20, a life-size bronze sculpture of Mr. Cub himself, Ernie Banks, was unveiled outside his alma mater, Booker T. Washington High School for the Performing and Visual Arts.
Banks was born in Jim Crow Dallas in 1931 and went on to become a major league baseball player for the Chicago Cubs, signed in 1953. Banks was said to be one of the sport's most remarkable players, not just for his abilities but for his disposition as well.
Artist Emmanuel Gillespie, who currently serves on the faculty at the Winston School and was a graduate of Booker T., created the work with assistance from three current arts magnet students, Jennifer Huynh, Natalie Carvajal and Bella Najera.
Mayor Mike Rawlings; Dallas ISD Superintendent Dr. Michael Hinojosa; biographer Ron Rapoport; Banks' sister, Edna Banks; and hundreds of past and present students from the high school looked on to witness this joyous and historic moment.
Although Banks had lived to see a statue of his likeness unveiled outside Wrigley Field in Chicago in 2008, this hometown tribute came three years after his passing.
With this new bronze Banks, in the works since 2015 and now installed on the same grass plot that a young Banks used to play football on with a tin can for a ball, Dallas and Booker T. celebrated one of the greats and one of their own.
When Rawlings took to the podium, set up under a big tree at the original entrance to the high school, he expressed enthusiasm for the project.
"This is an opportunity to celebrate, not just Ernie Banks, but a significantly historical part of Dallas. The African American history is amazing when you start to learn what happened in this part of town," he said.
"We wanted to celebrate sports – we love sports in Texas; we love baseball, and there's no better baseball player than Mr. Cub himself. And we wanted to support the Arts. ... Thank you for making art about sports, about our history and about a great man."
Referencing the still-fresh injustice against Botham Jean at the hands of officer Amber Guyger last month, Rawlings bridged the past, present and future by highlighting the significance of the event, how far Dallas has come, and where the city must go from here.
"What we do today is as important as ever, and that's why doing this is important," Rawlings said. "This city's heart is still breaking for Botham Jean – who worked just a couple of blocks away from here. You couldn't have a better citizen in Dallas than Botham. And in some way, one small way, maybe this is a memorial to him as well – that we're remembering history and what our city can become and how this yesteryear and today comes together."