Hometown legend Ernie Banks immortalized at Booker T. Washington High School
SHAIA MOORE | 10/1/2018, 1:46 p.m.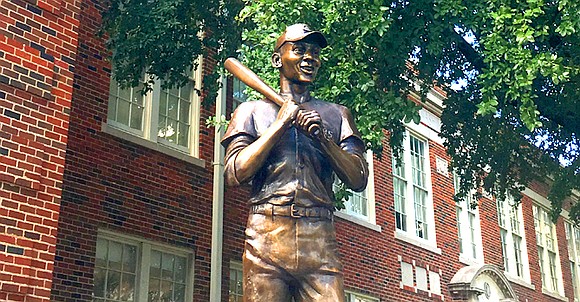 He then addressed the Booker T. students in attendance.
"Thank you students: You need to graduate, you need to go to college, you need to come back and help us make the next chapter of Dallas great by remembering the forefathers that were here," he said.
Hinojosa spoke next, making a joke about the weather in order to reference one of Banks' most memorable lines.
"Ernie's favorite saying is: the weather's so nice, let's play two," Hinojosa said.
Last year, Banks was honored in the inaugural class of Dallas ISD's Athletic Hall of Fame.
The very first donor to the campaign for the Banks project was the Washington-Lincoln Alumni Association. John Thomas, who attended Booker T. in 1959 and now serves as the president of the DFW chapter of the WLAA and as national treasurer, spoke next.
Thomas began his speech with scripture.
"Though I speak with the tongues of men and of angels, and have not love, I am nothing," he said. "I thought of that last night when I was thinking of this occasion. And I knew beyond a shadow of a doubt that it could not have been done without love. Love trumps – always – hate. And you can look around this place and see that it did."
"It took love to overcome all of the reasons why it didn't happen before today."
Thomas was alluding to how racism has kept this baseball icon from being properly celebrated.
"It is very, very overdue. Unfortunately he had to die before he got a chance to see his own hometown honor him this way."
Rapoport, longtime journalist and most recently the author of the definitive biography on Banks titled Let's Play Two: The Legend of Mr. Cub, the Life of Ernie Banks, available this spring, gave a history lesson.
Rapoport asked the audience members to turn their heads to look at the modern exterior of the Dee and Charles Wyly Theatre, which was designed by Dutch architect Rem Koolhaas.
"What you can't see from here is a driveway that leads up to the theatre. Well about 90 years ago, on that driveway, there was a house where Ernie Banks was born and raised. It was a shotgun house; you open the door and you could see through to the back," he said.
Banks eventually had 11 siblings; they would all share that small shotgun house – a house with no running water, electricity or heat, with an outhouse out back.
"So much has changed here," Rapoport continued. "This beautiful high school stands as a symbol of everything that a public high school can aspire to. It's graduated writers and musicians and actors and artists and many others who have done great things. You know the names of some of them – Norah Jones, Erykah Badu, Roy Hargrove, Edie Brickell, Emmanuel Gillespie."
"But long before that, when Booker T. was just this one building we're sitting in front of, it also graduated many important people. One of them of course was Ernie Banks, who's the greatest baseball player Dallas ever produced. But I think this statue also stands as a tribute and a reminder of others who have graduated from Washington High and from Lincoln High too. I think it stands as a tribute to the generations of doctors, lawyers, teachers, businessmen, civil rights workers and all the others who together made up an emerging professional and middle class in Dallas. And I think it's just wonderful that this statue is placed on the exact plot of grass that Ernie and his friends played football with a tin can."