O'Rourke holds his own against Cruz in first debate
HAIA MOORE and DANIEL ESTEVAO | 10/1/2018, 2 p.m.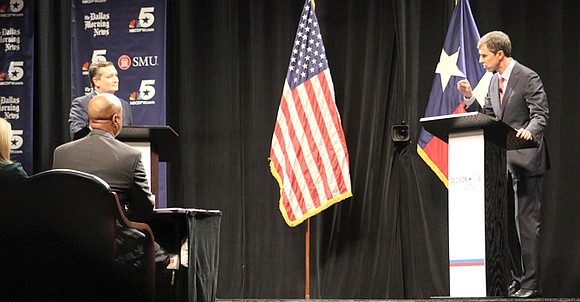 The Dallas Examiner
– POLITICAL ANALYSIS –
In their first Texas Senate debate at Southern Methodist University held Friday evening, Republican incumbent Ted Cruz and Democratic challenger Beto O'Rourke squared off on a range of hot-button issues from immigration and health care to Judge Brett M. Kavanaugh and Botham Jean.
In the debate that almost never was – the two campaigns had gone back and forth for months before settling on three one-hour debates – both candidates were prepared to articulate their take on Texas values.
Cruz, a shrewd and seasoned debater, was seeking to slow the Beto-mania that has been sweeping the state. Despite the fact that Texas has not elected a Democrat to the Senate since 1988, Cruz and the GOP are rightfully concerned.
Recent polls have them running within single digits of each other. And against all odds, Cook Political Report put Texas in the Toss Up column.
O'Rourke, relying more on his raw charisma and inclusive message than his debate experience, hoped to raise his name recognition and draw a contrast between Cruz's animus and his own more congenial style.
With the midterm elections just weeks away, the nation has its eyes on Texas, where the outcome could mean the difference between a Republican or Democratic Senate majority.
Immigration
O'Rourke, who drew the first question, began with a call for Texans to "rewrite our immigration laws in our own image and to ensure that we begin by freeing DREAMers from the fear of deportation by making them U.S. citizens."
"Senator Cruz has promised to deport each and every single DREAMer," O'Rourke said.
In his signature style of boiling complicated arguments down to a simple point, Cruz stated his immigration views can be summed up in four words: "legal, good; illegal, bad."
Cruz argued, "Americans are dreamers also," and painted O'Rourke and his progressive policies as "out of step with Texas."
"I'll tell you about being out of step with Texas," O'Rourke countered.
O'Rourke argued that building a wall "on someone's farm, someone's ranch, someone's property, someone's homestead, using the power of eminent domain to take their property at a time of record security and safety on the border" is what is truly out of step with Texas.

Botham Jean
Cruz used the next question about the recent shooting of unarmed Black man, Botham Jean, to criticize O'Rourke for his calls to fire Amber Guyger, the Dallas officer who has already been charged with manslaughter.
He chastised O'Rourke for siding against the police, claiming that O'Rourke "described police officers as modern-day Jim Crow."
Cruz then displayed some effective theatrics when he pointed out Officer Brian Graham in the audience.
"Officer Graham is standing there, his two kids, he took a bullet in the head protecting us and let me say right now I think it is offensive to call police officers modern-day Jim Crow. That is not Texas."
That line received one of the biggest applauses of the night.
Immediately, O'Rourke refuted the claim and circled back to the original question.