O'Rourke holds his own against Cruz in first debate
HAIA MOORE and DANIEL ESTEVAO | 10/1/2018, 2 p.m.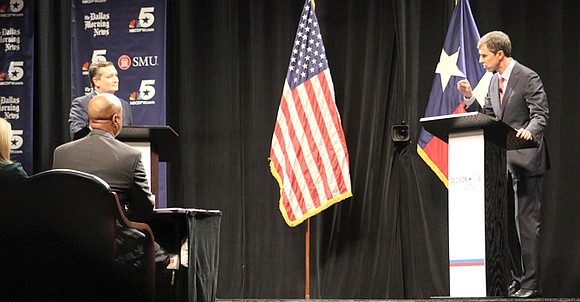 "If African Americans represent 13 percent of the population in this country yet they represent one-third of those who are shot by law enforcement, we have something wrong," O'Rourke answered. "If we have the largest prison population on the face of the planet and it is disproportionately comprised of people of color, we have something wrong in this country."
As a follow-up, Cruz was asked if he agreed that police violence against unarmed African Americans is a problem. Cruz did not directly address the issue and instead pivoted into a discussion of police funerals and the 2016 shooting of Dallas police officers.
"I was here in Dallas when five police officers were gunned down because of irresponsible and hateful rhetoric," Cruz said.
Cruz then chided O'Rourke for using a similar rhetoric.
"He's stated for example, 'White police officers are shooting unarmed African American children.' The Washington Post fact-checked that claim and concluded congressman O'Rourke was wrong. But I'll tell you something, that rhetoric does damage. That rhetoric divides us on race; it inflames hatred," he said.
O'Rourke came back hard without resorting to calling him "Lyin' Ted."
"You just said something that I did not say and attributed it to me," O'Rourke told Cruz. "This is your trick of the trade, to confuse and incite based on fear."
Indeed, the quote fact-checked in The Washington Post came from the viral NowThis News video of O'Rourke commenting on the NFL protests during the national anthem.
"Black men, unarmed, black teenagers, unarmed and black children, unarmed, are being killed at a frightening level right now, including by members of law enforcement without accountability and without justice," O'Rourke said.
The Washington Post concluded that it was all about how you interpreted the quote. Was he saying "unarmed Black children are being killed at a frightening level by police"? – false, or was he saying there are "frightening rates in which black men, teens and children are being killed in the United States, with some of those killings by police"? – true.
Due to this ambiguity, the congressman's claim was given a "No Rating."
NFL Protests
On the issue of NFL players protesting during the national anthem, O'Rourke spoke passionately about the Civil Rights Movement in this country and reiterated his belief that "there's nothing more American than" such peaceful, nonviolent protest.
Cruz responded by repeating a common GOP alt-history narrative in which modern-day Republicanism is the party of Lincoln and the Civil Rights Movement.
"One of the reasons that I'm a Republican is because civil rights legislation was passed with the overwhelming support of Republicans and indeed, the Dixiecrats who were imposing Jim Crow, the Dixiecrats who were beating those protesters, were Democrats and that's one of the reasons I'm proud to be a member of the party of Lincoln."
But in fact, one of the major causes for the breakup of party loyalties was the Civil Rights Act of 1964, when Democratic President Lyndon Johnson is said to have told his aid Bill Moyers, "I think we just delivered the South to the Republican Party for a long time to come."