O'Rourke holds his own against Cruz in first debate
HAIA MOORE and DANIEL ESTEVAO | 10/1/2018, 2 p.m.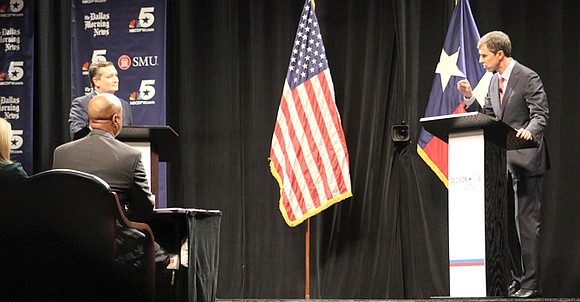 Dixie in the time of Lincoln voted Democrat and fought for the Confederacy. Now those same former slave states overwhelmingly vote Republican – not because they had an ideological flip, but because the parties themselves flipped over time.
O'Rourke missed an opportunity to school the audience on this inaccuracy and essentially validated it by letting it slide.
Perhaps trying to avoid an accusatory back-and-forth over complicated U.S. history, O'Rourke responded, "Listen, I could care less about either party at this moment, at this deeply divided, highly polarized time in our history."
Cruz then said that Martin Luther King Jr. would not have approved of the protests.
Dr. King's daughter, Bernice King, refuted that claim on Twitter, inviting "Senator Cruz and all to read Letter from Birmingham Jail."
Personal Dignity and the War on Drugs
The integrity of both candidates was questioned during the debate.
Cruz was asked to address those who believe that, when it comes to Trump, he has lost his dignity. Trump famously dubbed Cruz "Lyin' Ted" during the 2016 election and yet Cruz has become friendly with Trump and even asked the president to campaign for him in Texas.
O'Rourke was asked to address a recent Houston Chronicle article that mentioned a witness who claimed O'Rourke tried to leave the scene of the accident during his 1998 DWI. He said that was not true.
In addressing his DWI, O'Rourke spoke directly on issues important to Black voters: the felony check-off on applications and the decriminalization of marijuana.
"As a White man in this country there's a privilege that I enjoy that many African American men and women do not. They do not have that second chance; they're forced to check that box on an employment application form that makes it harder for them to get a job," O'Rourke said. "Everyone deserves a second chance."
Additionally, he called to end the War on Drugs, specifically the prohibition on marijuana, so that we won't have, among other reasons, "another African American man – because more likely than not that's who will be arrested for possession of marijuana – rot behind bars instead of enjoying his freedom."
Cruz responded, "I have a libertarian bent myself – I think it ought to be up to the states. I think Colorado can decide one way, I think Texas can decide another."
Now Say Something Nice
In the final exchange, the moderators sought to end things on a positive note by asking both candidates what they admire in their opponent.
O'Rourke answered graciously, saying that Cruz is a father of young children, that he works hard and has made sacrifices to serve this country. He even thanked him for his service.
Cruz pretty much said "ditto" and then went on to compare him to Bernie Sanders, likening O'Rourke's passion and enthusiasm to Sanders' sincere belief in socialism.
"Now I think what he's fighting for doesn't work but I think you are absolutely sincere, like Bernie, that you believe in expanding government and higher taxes. And I commend you for fighting for what you believe in."
In what would become the viral comeback of the night, O'Rourke replied, "True to form."
So far, in terms of polls and debate performance, the two candidates are near even. There will be two more one-hour debates between the junior senator and the not-so-underdog representative. The University of Houston will host the second debate on Sept. 30, followed by the final debate Oct. 16 in San Antonio.
Early voting begins Oct. 22 and ends Nov. 2. Voting day is Nov. 6. The final day to register to vote in the midterm election is Oct. 9. Find out if you are registered to vote on http://www.votetexas.gov.