Political spam: Is there a way to make it stop?
ALEX SAMUELS | 10/8/2018, 11:40 a.m.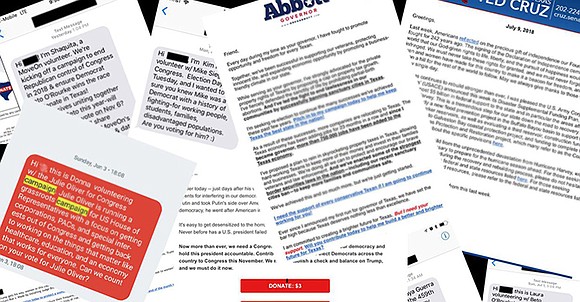 The Texas Tribune
With the 2018 general election just a few months away, many local, statewide and congressional candidates are looking for ways to leave lasting impressions on Texas voters. Texting and emailing has proven to be one of the more modern – and effective – ways of doing so.
But if you're tired of those messages constantly buzzing your phone, there's bad news. While the law clearly bans commercial email and text message spam, things are different when politics are thrown in the mix.
According to the Federal Trade Commission, it's illegal for businesses to send unsolicited emails or text messages unless the sender gets permission first. There are several measures on the books regulating this.
For starters, Steve Augustino, an attorney at the Washington, D.C.-based law firm Kelley Drye & Warren, said consumers are protected from unsolicited telemarketing calls, automatic telephone dialing systems and text messages under the Telephone Consumer Protection Act. Another law, the CAN-SPAM Act, prohibits many types of email spam and bans the sending of emails to senders after recipients state they do not wish to continue receiving them, he said.
And the Federal Communications Commission regulates robocalls, which are phone calls initiated by an automatic telephone dialing system that often leave a prerecorded voice message. Those are banned unless the sender receives consent from a consumer before calling. The FCC also polices political robocalls, though the onus is primarily on the receiver to report them.
But personalized emails and texts don't fall under those rules. And politicians are able to skirt these measures because the messages they're sending are non-commercial and therefore exempt from these laws.
"Those laws only apply to commercial messages and these are not commercial messages because they're not proposing a commercial transaction," said Hugh Brady, a law professor at the University of Texas at Austin.
Texts and emails are protected political speech under the First Amendment, Brady added.
"A political text that just says, 'Hey, I'm David and I'm a volunteer for this campaign,' is not covered under the CAN-SPAM Act or the Telephone Consumer Protection Act because those, ostensibly, are not robotexts," he said.
Julie Oliver, the Democrat running to unseat Republican U.S. Rep. Roger Williams of Austin, said her field director sent out their campaigns' latest hoard of text messages to voters in her district Friday in hopes of identifying supporters and soliciting volunteers.
"I host town halls and then also do blockwalking. Meeting people in person is definitely the most effective tool that you can utilize when it comes to voter contact," Oliver said. "But are there modern tools that can be used to enhance that experience? Absolutely, and text messaging is one of them."
For smaller, more local races, some political strategists say email and the utilization of social media sites like Twitter and Facebook are better for reaching voters.
Matt Mackowiak, a Republican consultant and chairman of the Travis County GOP, said candidates he works with often use email to send insider information, candidate updates, photos and, in some cases, ask for money.