Political spam: Is there a way to make it stop?
ALEX SAMUELS | 10/8/2018, 11:40 a.m.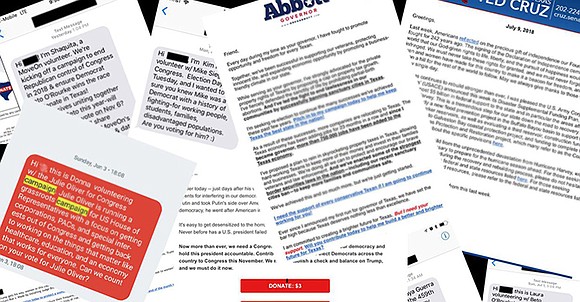 "Every campaign is using email. If you're not using email, I don't know what you're doing," Mackowiak said. "It's become a very basic campaign tool. And in some ways, [email] is less intrusive than someone calling you or knocking on your door."
Wondering why you are receiving so many texts and emails? There might be several reasons, Augustino said.
For one, there's a chance you accidentally opted into receiving them.
"A lot of times the call recipient will have given consent to the party or to another campaign and that consent was fairly broad. It covered not just that particular candidate, but might cover other candidates or all Democratic or Republican candidates," Augustino said. "So they share the list and that information."
Augustino said that it's also possible that you have a recycled cellphone number.
"Particularly if it's a relatively new phone number you have, it might have been associated with someone else who had given their consent to this particular candidate or source," he said. "And the outbound caller has no good way of telling when a number has been reassigned."
But there's good news: Taking your name off a candidate's mailing or texting list should be easy, according to Colin Strother, a longtime Democratic strategist in Texas.
Overall, he said, most politicians don't want to bother voters. So if you want to be removed from someone's list – just ask.
"My best advice if you're receiving unsolicited text messages, emails or phone calls is to contact the campaign, speak to a real live human being and let them know you do not wish to receive this type of communication and ask to be removed from the list," Strother said. "I think most campaigns will take that to heart and remove you from their list.
"We're in the business of trying to get people to like us. Not get people to hate us."
The bottom line: While there's no federal law prohibiting candidates from sending voters texts and emails, there are ways to opt out of political spam.
The next time you receive a text or email from a politician you don't remember giving your consent to, try calling the campaign and asking to be removed from its list.
Disclosure:
The University of Texas at Austin has been a financial supporter of The Texas Tribune, a nonprofit, nonpartisan news organization that is funded in part by donations from members, foundations and corporate sponsors. Financial supporters play no role in the Tribune's journalism. Find a complete list of them here.
This article was first published at https://www.texastribune.org/2018/07/27/texas-voters-text-message-email-spam-november-election/ by The Texas Tribune, a nonprofit, nonpartisan media organization that informs Texans – and engages with them – about public policy, politics, government and statewide issues.