Slavery at Jefferson's Monticello
Unique exhibit reveals slaves' untold experiences
MIKE McGEE | 10/8/2018, 11:34 a.m.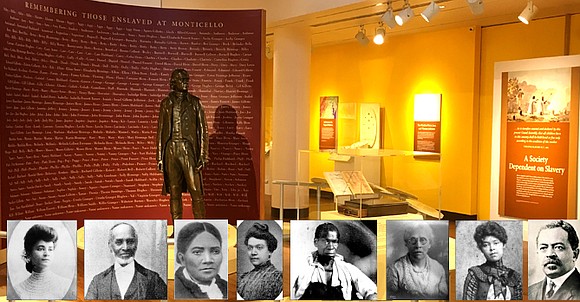 The Dallas Examiner
A curated collection at the African American Museum in Fair Park offers a view of slavery in the U.S. that plainly conflicts with the concept of freedom, as well as underscores the fact that, at times, centuries-past heartbeats of basic daily existence grow into a modern lifeline that connects members of contemporary society.
Slavery at Jefferson's Monticello: Paradox of Liberty, running from Sept. 22 to Dec. 31, is a traveling exhibition that provides a clear picture of slavery on the tobacco and wheat plantation owned by Thomas Jefferson, third president of the United States and primary author of The Declaration of Independence.
Dallas is the first stop on the national tour.
The bulk of the exhibit, which represents a time when slavery was a normal part of society and those enslaved were legally considered three-fifths human, includes 300 objects, works of art, documents and artifacts unearthed at Jefferson's home, according to a joint statement released by the Thomas Jefferson Foundation at Monticello and the African American Museum.
Dr. Harry Robinson Jr., president and CEO of the museum, emphasized that the showcase of relics, images and other ephemera was a rare collection with an unusual purpose.
"This exhibition is very special. It's very different from most exhibitions that have been done on slavery. This exhibition tells about the slave experience by the slaves," he noted during a Sept. 20 preview.
"It's interesting to see the paradox between Thomas Jefferson – his belief about slavery, and then you see that he is a man who had, what, 600 slaves. It's interesting. And it's interesting to see how the Hemings family and slave families moved around on Monticello."
Sally Hemings, an African American woman enslaved at the age of 16, is featured prominently in the exhibition.
Hemings negotiated with Jefferson, ensuring that she would receive "extraordinary privileges" and achieve freedom for her children. Jefferson fathered at least six children with Hemings, four of whom survived to adulthood, as reported by the foundation and the museum.
Gayle Jessup White, Monticello's community engagement officer and a descendant of Hemings and Jefferson, describes one aspect of the exhibition, recalling those who also played a part in American history yet who never got their due.
"Those are the lives we're honoring. Those are the lives we learn about – people who helped shape America," she voiced. "It's an important moment here for Dallas."
Jessup White affirmed that such an exhibition moves the national conversation forward.
"It allows us to talk about who we are as Americans. It allows us to talk about race, allows us to engage and understand contributions that Black people have made throughout history," she stated. "We can talk about these things. This is us."
As mentioned by Robinson, Jefferson, who initially inherited his slaves, seemed to be conflicted about slavery.
In a section of the exhibit entitled "The Deplorable Entanglement," it is noted that Jefferson and other founders favorably believed that forging a new nation might bring about the end of slave ownership in the colonies.