Slavery at Jefferson's Monticello
Unique exhibit reveals slaves' untold experiences
MIKE McGEE | 10/8/2018, 11:34 a.m.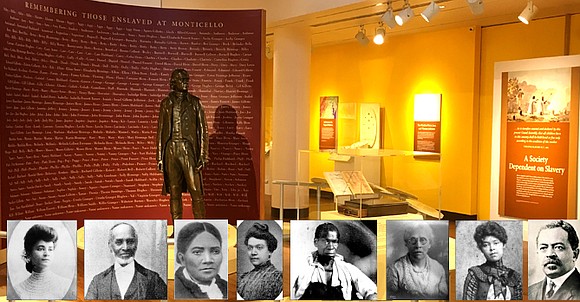 "Emancipation would fulfill the ideal that 'all men are created equal.' At the same time, Jefferson and other founders did not believe that Black people had a place in the United States," the display underscored.
"Jefferson spent much of his life wrestling with, and proposing various solutions to, this national problem. But slavery was not abolished, and he remained a slaveholder throughout his life."
Per the joint statement, the Declaration of Independence created a new nation defined by principles of freedom and self-government, yet 20 percent of the population remained enslaved. Jefferson called slavery "an abominable crime," yet he owned 607 people over the course of his lifetime.
The exhibit transforms human property into individuals and families, culling from more than 50 years of archaeology, documentary research and oral histories to fill in the critical human dimension missing from many resources on slavery in the U.S.
"It's revealing another side of slavery," the doctor remarked. "That's why it's significant. It's a conversation, not a monologue. In the past it's been a monologue. They present this to you, and this is the way it is. But here's an exchange."
Several enslaved families – the Hemingses, Herns, Fossetts, Hubbards, Grangers and Gillettes – are highlighted within the exhibition, not just for the major roles they played on the plantation, but because their descendants continue to this day to make up the diversity of America.
"Our sweeping American story, wonderful and woeful as it is, leaves out too many people whose contributions have been ignored or denied. This exhibit returns those forgotten men, women and children to the American narrative, restoring to them not only their place in history, but also their very humanity," Jessup White additionally declared in a prepared statement.
Likewise, the exhibition examines the layered dynamics of the founding of America and the legacies of slavery that continues to shape the country.
At one stop in the museum, visitors are asked to consider: Had they been slaves at Monticello, would they have remained or attempted to run away? This question is surrounded by displays about the daily lives of slaves, as well as a reproduction of advertisements offering rewards for the return of runaway slaves.
Robinson expressed that there is so much information in the exhibition that everyone who visits will learn something new.
"You're learning some stuff [you] never heard – and I was a history major in college," he considered. "There's some stuff that wasn't in the textbooks."
Admission will be free on Thursdays for visitors 65 and older. Members of the African American Museum receive free admission.
"I'd like as many people as possible to come and at least begin to get a feel, getting a glimpse of the total picture of American history," Robinson said. "This is a part of America, and it's a part that was left out."
Visit http://www.aamdallas.org for hours as well as changes in the museum's schedule during the State Fair of Texas.