Chemotherapy for cancer
GLENN ELLIS | 10/17/2018, 9:27 p.m. | Updated on 10/22/2018, 9:27 p.m.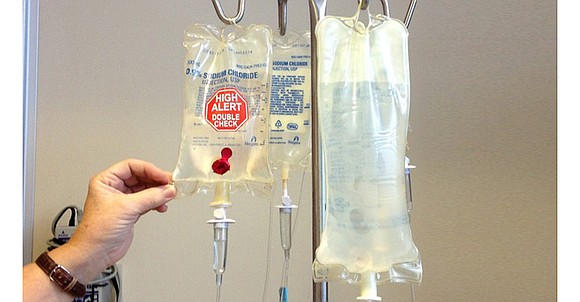 Ask the doctor why he/she is recommending chemotherapy. If they had cancer, would they treat themselves with this drug? How long have they been prescribing this treatment and to how many people? What are their expectations of this treatment? Are there other options that could produce the same results?
Cancer clinical trials – also called cancer treatment studies or research studies – test new treatments for people with cancer. These can be studies of new types of chemotherapy, other types of treatment or new ways to combine treatments. The goal of all these clinical trials is to find better ways to help people with cancer.
A patient's doctor or nurse may suggest they take part in a clinical trial. A patient can also suggest the idea.
Before a patient agrees to be in a clinical trial, they should learn about:
• Benefits – All clinical trials offer quality cancer care. Ask how this clinical trial could help them or others. For instance, they may be one of the first people to get a new treatment or drug.
• Risks – New treatments are not always better or even as good as standard treatments. Even if this new treatment is good, it may not work well for them.
• Payment – The insurance company may or may not pay for treatment that is part of a clinical trial. Before they agree to be in a trial, they should check with their insurance company to make sure it will pay for this treatment.
If you or anyone you know has been diagnosed with cancer, it's tough to be in those shoes right now. But it may help to know that many have made this journey and found hope by preparing for what lies ahead. There's hope in knowing that others have managed chemo with success.
Always remember: You/They are not alone!
There are almost 14 million people in the United States today who have survived cancer. And 3 out of every 4 American families have at least one family member with cancer.
Remember, I'm not a doctor. I just sound like one.
Take good care of yourself and live the best life possible!
Disclaimer:
This column is for informational purposes only. If you have a medical condition or concern, please seek professional care from your doctor or other health professional. Glenn Ellis is a Health Advocacy Communications Specialist and is available through http://www.glennellis.com.