Nobel Peace Prize jointly awarded to bring awareness to sexual violence
PRN Africa | 10/17/2018, 9:15 p.m.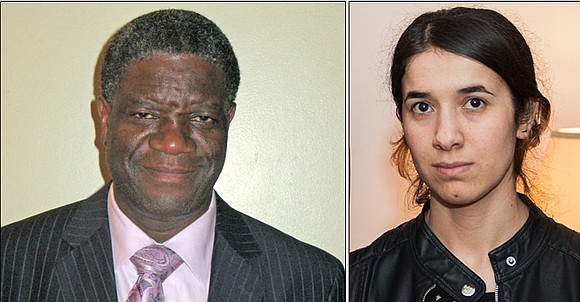 PRN Africa
NEW YORK – Dr. Denis Mukwege, a surgeon in the Democratic Republic of Congo, and Nadia Murad, a U.N. Goodwill Ambassador, were both presented the Nobel Peace Prize for their efforts to help female victims of sex crimes.
The decision to jointly award the prestigious prize has the potential to help end the use of sexual violence as a weapon of war, according to the United Nations – a cause which is central to the organization's work.
"In defending the victims of sexual violence in conflict, they have defended our shared values," said U.N. Secretary-General António Guterres at the U.N. headquarters in New York.
He praised Mukwege's "fearless" championing of women raped and abused in conflict, repairing "shattered bodies" as a skilled surgeon but also restoring "dignity and hope."
He also commended Murad for giving a voice to "unspeakable abuse" in northern Iraq, when Daesh terrorists brutally targeted the Yazidi ethnic minority in 2014.
"She has pursued support for victims of human trafficking and sexual slavery, and justice for perpetrators," stated the U.N. chief.
He went on to explain that the award was part of a "growing movement to recognize the violence and injustice" faced by women and girls the world over.
"Ten years ago, the Security Council unanimously condemned sexual violence as a weapon of war. Today, the Nobel Committee recognized the efforts of Nadia Murad and Denis Mukwege as vital tools for peace," he said.
"By honoring these defenders of human dignity, this prize also recognizes countless victims around the world who have too often been stigmatized, hidden and forgotten. This is their award, too. ... Let us honor these new Nobel laureates by standing up for victims of sexual violence everywhere."
Welcoming the announcement by the academy in Oslo, Norway, on behalf of the U.N. in Geneva earlier in the day, spokesperson Alessandra Vellucci explained that eradicating sexual violence in conflict remains a priority.
"I will recall that this is a cause that is very close to the United Nations, and as you know, we have a special representative on Sexual Violence in Conflict, Pramila Patten, who is also working toward this," Vellucci said. "I'm sure that this Nobel Peace Prize will help advance the cause of ending sexual violence as a weapon of conflict. Congratulations to the winners."
Patten expressed her appreciation for all those working toward the effort.
"Today's recognition of two champions in the fight to end wartime rape is an inspiration for all of us working in this field," she said, adding that it shone "a spotlight on a crime that has long been hidden in the shadows of history and sends a strong message that all the women, girls, men and boys who have suffered sexual violence, deserve justice and redress."
The joint prize was also welcomed by the U.N. Office on Drugs and Crime, which appointed Murad the Goodwill Ambassador for the Dignity of Survivors of Human Trafficking in 2016.
UNODC Executive Director Yury Fedotov hailed Murad's courage and resilience saying that it "reminds us that we must always listen to the people who have been most affected and harmed by the crimes we seek to stop."