Nobel Peace Prize jointly awarded to bring awareness to sexual violence
PRN Africa | 10/17/2018, 9:15 p.m.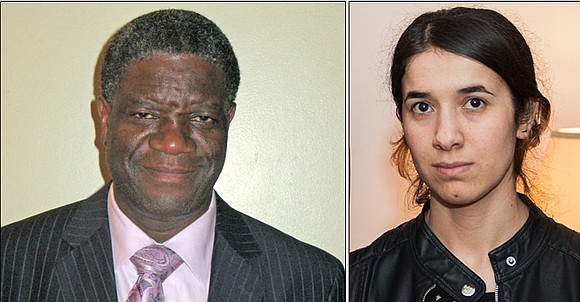 The testimonies of survivors like Murad "must inform and strengthen our efforts to achieve justice," Fedotov added.
Her advocacy has helped to establish what Guterres described as "a vitally important" U.N. investigation "of the harrowing crimes that she and so many others endured."
The man who mends women
Dubbed by the press "the man who mends women," Dr. Mukwege gained international recognition for his work and had earned much recognition, including the U.N. Prize in the Field of Human Rights in 2008, and the Sakharov Prize in 2014.
Mukwege, who has treated thousands of rape victims at his hospital in the Democratic Republic of Congo, has been shortlisted for the Nobel Prize several times.
The Nobel Academy's decision to honor him is in recognition of his years of work as one of DRC's most prominent rights defenders.
As a surgeon, he is known for helping survivors of rape in eastern DRC and he was the focus of a film, The Man Who Mends Women.
He experienced conflict firsthand in the region, when patients and staff at the hospital he ran were reportedly killed by soldiers.
After founding a hospital offering free medical care to victims of terrible sexual abuse and violence, he turned to advocacy – reportedly realizing that some rape survivors were the daughters of women who had been raped years earlier.
The U.N. High Commissioner for Human Rights, Michelle Bachelet, said shortly after the announcement that it was "hard to imagine two more worthy winners."
"This is richly deserved recognition of these two extraordinarily brave, persistent and effective campaigners against the scourge of sexual violence and the use of rape as a weapon of war," she added.
"Nadia and Denis: I'm sure I speak for all human rights defenders when I say we salute you; we admire you beyond words. You have fought for the pain women have suffered through sexual abuse to be recognized and confronted, and for their dignity to be restored. We need more people to stand up the way you have stood up for the rights of women, for justice, for the rights of minorities, for the rights of everyone."
The Executive Director of U.N. Women, Phumzile Mlambo-Ngcuka, said she was celebrating "these gender equality leaders, along with their care and trust of women."
"There can be no peace while women and girls are raped with impunity as a tactic of war. The 2018 Peace Laureates are doing vital work to bring visibility and voice to this violation of women's rights and to bring justice to women and girls brutally harmed by sexual violence in conflict."
Within the U.N., the issue of eradicating sexual violence in conflict has long been a top priority.
This work is carried out in collaboration with Member States by Special Representative on Sexual Violence, Pramila Patten of Mauritius, who also holds the rank of U.N. Under-Secretary-General. Her office was established in 2009 by U.N. Security Council Resolution 1888; its first representative was Margot Wallström of Sweden.
The U.N. Security Council resolution was one in a series, which recognized the harmful impact that sexual violence has on communities, while also undermining peace and security once conflict has ended.