The importance of midterm elections
STACY M. BROWN | 10/28/2018, 11:48 p.m.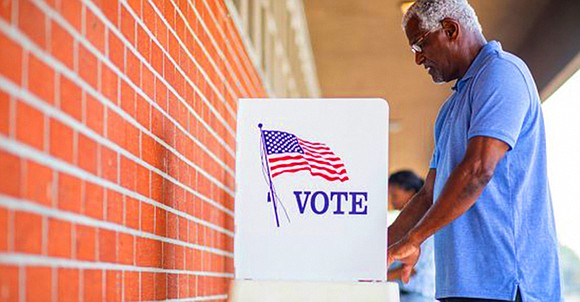 (NNPA) – Next month's fast-approaching midterm elections count as one of the most consequential in a lifetime, according to political scholar Norman Ornstein.
With that in mind, AARP launched a campaign titled, "Be the Difference. Vote!"
The organization, which was founded in 1958 on the principles of promoting independence, dignity and purpose for older adults, doesn't endorse candidates or parties. Instead, its focus has been on policy that affects older adults.
"'Be the Difference. Vote!' is a non-partisan campaign whose goal is mobilizing African Americans voters – and all voters 50 and older – to exercise their power and vote," said Edna Kane-Williams, the senior vice president of multicultural leadership at AARP. "Critical issues like Medicare, Social Security, prescription drugs and family caregiving are on the line, and older voters need to show up and protect what they've earned."
Launched in May, the campaign relied on studies that show voters 50 and older are the most reliable.
The multifaceted campaign seeks to encourage the largest possible turnout of older voters to the polls during the midterm election, Nov. 6. This election places issues like Medicare, Social Security, financial security and caregiving – topics of particular interest to older voters – front and center.
Kane-Williams referenced U.S. Census statistics that reveal that only 57 percent of all U.S. citizens between the ages of 25 and 44 voted in the 2012 general election, compared to 68 percent of those between the ages of 45 and 64.
Among African Americans, 65 percent of individuals between the ages of 25 and 44 voted, compared to 72 percent who were between the ages of 45 and 64.
African Americans will be a deciding voting bloc in key races across the country, especially in Pennsylvania, Florida, North Carolina, Virginia and other swing states, according to multiple political experts. However, forecasters also predict potential Black voter dropout, a serious issue.
In 2016, the Black voter turnout rate declined for the first time in 20 years in a presidential election, falling to 59.6 percent after reaching a record high of 66.6 percent in 2012, according to the Pew Research Center.
"We are at a moment in which important decisions need to be made on matters key to the lives of older Americans," AARP editors noted in the October 2018 AARP Bulletin. "Some are obvious, like the future funding and structure of Medicare and our health care system. At the same time, many states are grappling with issues related to worker discrimination, retirement savings, underfunded pensions, Medicaid, caregiving and more. Those we put into office could shape the resolutions of these issues for decades to come."
In a colorful graphic for the magazine, the editors outlined what's at stake, including 35 of the 100 U.S. Senate seats; all 435 seats in the U.S. House of Representatives; and 36 of 50 states will elect a governor.
Nearly 300 state appellate judges, including 71 state Supreme Court justices will be elected or appointed; 25 of America's largest cities will elect mayors; and 82 percent of state legislator positions, totaling 6,070 seats in 87 legislative chambers, are up for grabs.