Battle scars: Heart tested but not broken
DENISHA McKNIGHT | 9/6/2018, 10:49 a.m.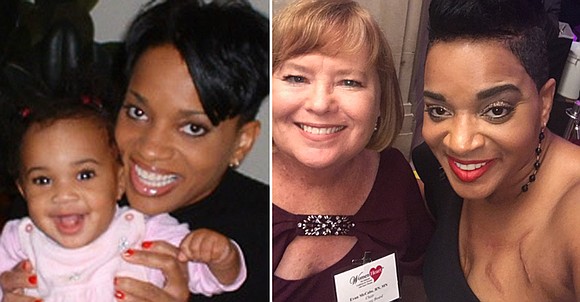 The Dallas Examiner
"I've been through hell and back," said WomenHeart Board Chair-elect Rhonda Monroe as she reflected on the critical battle with her health.
At first glance, Monroe may seem like a normal mother of three and successful community activist, but underneath holds the many layers of the leading voice for the 48 million American women living with or at risk of heart disease, an illness that almost took her life.
Having reached new heights, the motivational speaker opened up about how she lost everything and was forced to rebuild her life after struggling with heart disease.
Monroe came from humble beginnings. She grew up with both of her parents in the northeast District of Columbia. But at age 17, shortly after graduating high school, her mother died as a result of a hospital error during a kidney transplant.
"They punctured her lung where she bled into her lungs," she explained. "Then, as they were transferring her from the gurney to the bed, they dropped her head, which caused brain damage. She was 41."
Despite the devastating blow, she pressed on with her college career at St. Mary's University, were she earned her Bachelor of Science in business and finance.
By February 1999, Monroe entered a new life chapter in Charlotte, North Carolina, with her then-husband and her son from a previous relationship and with another son on the way. As her family changed, however, her health began to change as well. She felt fatiqued and began to have nose bleeds
"I never had a nose bleed my entire life, and I became extremely tired," she said of this new discovery during her second pregnancy.
These hints were beyond just pregnancy symptoms but the start of a very overwhelming health saga for Monroe. Not too long after, the pregnant mother suffered a stroke that left her temporarily paralyzed on the left side of her body.
"I can't even tell you how scary that was," she exclaimed. "I could not move my mouth. That horrified me. In my mind, I didn't know I was having a stroke. I was just thinking what is going on and why am I paralyzed."
Initially, the doctor misdiagnosed her with an allergic reaction. She was eventually given an MRI scan of her brain. Monroe said she was able to recover in two days. Also, she and her baby were not left with any defects from the stroke.
After the birth of her second son, her symptoms didn't lessen. Monroe still suffered from occasional nose bleeds and extreme fatigue that wouldn't get checked out until five years later.
In May 2004, the then 36-year-old spokeswoman was nine months pregnant, in an abusive marriage and still enduring ailments from her previous pregnancy.
That same month, Monroe's body gave her a sign that would save her child's life. Her water broke unexpectedly and she was forced to drive herself to the hospital.
"I had the baby; she was five days early," she said. "Thank God because five days later I had a heart attack."