Battle scars: Heart tested but not broken
DENISHA McKNIGHT | 9/6/2018, 10:49 a.m.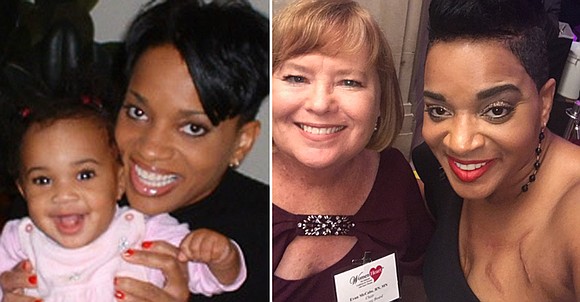 After giving birth, Monroe was prescribed pain medicine, but an immense sensation overtook her body that the medication couldn't numb.
"The day before [the heart attack], I keep feeling this pain in my left arm and I was like 'that doesn't feel right,'" she recounted. "Something is wrong."
Monroe placed her newborn in her crib after nursing her to sleep and, like most moms, saw an opportunity to get more rest before the infant woke up.
"I'm laying on the bed, then I just bounced right back up," she recalls. "I felt so sick. I tried to lay down. [It] felt like an elephant was sitting right on my chest. I looked in the mirror and said 'I think I'm having a heart attack,' and started sweating."
Monroe returned to the hospital that same day, only to be misdiagnosed despite an electrocardiogram test showing an acute myocardial infarction – a recurring cycle she will face most of her life.
The advocate fought against the medical center's oversight and sought for a remedy until she finally received the answer she was looking for on the sixth night of her treatment.
"I literally kept my left foot on the ground all night, because I felt if I lifted my leg up I was going to lose my attachment to the earth," she said as she detailed the horrifying feeling.
With three small children and an abusive husband, Monroe found aid from her neighbor during what she felt could be her final moment.
"I told her I drove myself to the delivery room, but this time I don't have the strength," she said tearfully as she briefly relived the past hardship.
In one last hospital attempt, Monroe waited two hours to be seen by a cardiac care doctor, where they detected she had a weeklong heart attack and placed a catheter in her groin to check her heart.
"I was told that they have done everything they could do [and] that the only thing they can do is pump blood and plasma in order to stabilize my heart, which is what they did," she said.
The young mother's heart was so damaged that she had to undergo emergency bypass surgery that same night. Her heart had five coronary artery dissections and underwent an additional emergency quadruple bypass surgery. The organ was so remarkable that surgeons held it in their hands and photographed it.
Recovery was hard to achieve. After the surgeries, the survivor developed Dressler Syndrome, inflammation of the sac surrounding the heart; arrhythmia, irregular heartbeat; and tested positive for V-Tach, a rapid heartbeat condition. A defibrillator was implanted in her heart September 2004, which left her in the hospital for an entire month.
As she fought for her life, her home life suffered. Her hospital bedridden state left her unable to take care of her home and unable to take care of her young children.
"It has not been easy," she said "Believe me, fighting for your life is not an easy task. I lost so much. All I had was my life and my faith."