Battle scars: Heart tested but not broken
DENISHA McKNIGHT | 9/6/2018, 10:49 a.m.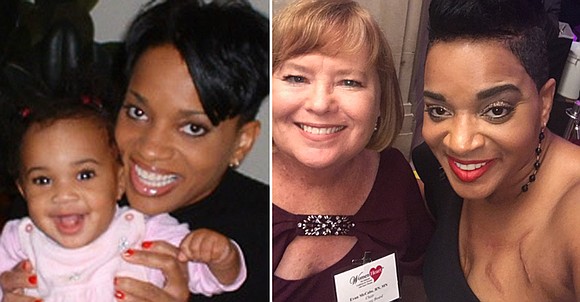 In 2005, Monroe regained enough strength to take back her life. She moved away from her husband to West Virginia and returned to her hometown to receive better medical treatment at MedStar Washington Hospital.
That same year, she was presented with a motivational speaking opportunity from her cardiologist to talk about her heart disease experience at a ICD Connection conference at the University of Michigan in Ann Arbor. The conference was a blessing in disguise, placing her in direct contact with a audience member who introduced her to WomenHeart founder Nancy Loving.
"I went to D.C. and met Nancy. Then, a little while after that she called and asked me if I would be willing to do the Today show for her," she said.
Soon the world became more familiar with Monroe's inspirational story. Her story was featured on the Today show, Time magazine, and in a Bayer aspirin commercial. By 2007, she became an official member of the organization and an official representative.
Light was finally shining at the end of the tunnel for the survivor but trouble began to resurface. In 2011, her bypass grafts shut down and was given a low percentage of surviving a repeat bypass. Despite surgeon's fear of death, Monroe stated faithfully that she knew she wasn't going to die.
During the surgery, she flatlined four times, had 15 laser holes drilled in her heart, three defibrillators implanted, stents and angioplasty. In the end, she had a tattered heart and a new sense of confidence.
"Since then, I've been relatively stable," she said joyfully. "This morning, I walked 3.7 miles.
My heart is much better. It's at the lower limits of normal now when before it was at 20 percent."
Now, as a board chair and activist, Monroe holds enough wisdom to educate women internationally about overcoming the leading cause of death globally, according to the World Health Organization.
"I don't know if I had not been through all of that would I have been compassionate enough, sensitive enough or bold enough," she said. "Out of my tragedy and pain I became sensitive to the [Holy] Spirit and others that I can step in and say 'I know all about tragedy, pain and heartbreak, and I will walk through this with you until you are strong enough to stand on your own.'"
African Americans have a higher risk of heart disease with men at 44 percent and women at 48 percent, according to the Centers for Disease Control and Prevention. Heart disease has also claimed the lives of 48,000 African American women annually.
Monroe advised anyone suffering with health issues to trust their instinct.
"Trust your gut and advocate for yourself," she said. "If you believe something is wrong, trust that instinct and pursue and persist. No one knows you better than you."
For caretakers and parents, it is imperative to always make sure your health is stable first before spreading yourself thin, according to Monroe.
"When you are caring for others, it is best to take care of yourself first," she expressed.
The chair member is also aware of those who lack a support system and strongly recommends seeking an active organization with a mentor program.
"It was important for me to connect with people who understood where I was and, also, made it to where I needed to be, which was a healthy place," Monroe said.
For information and resources, visit http://womenheart.org to seek support for those who suffer or at risk of heart disease.