A day with Beto O'Rourke in the Southern Sector of Dallas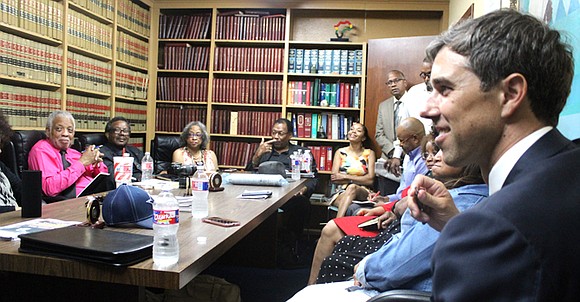 Beto O'Rourke, a Texas candidate for U.S. Senator, spent the majority of the day in the Southern Sector of Dallas, Aug. 26. O'Rourke is from El Paso and prefers to be called by his first name. Since announcing his candidacy, he has visited the entire state of Texas, traveling to all 254 counties – speaking with people from small towns and large cities, talking to anyone who would listen to him.
That Sunday, he started his morning by attending the 8 a.m. worship service at Concord Baptist Church, accompanied by Sen. Royce West and Dallas County Commissioner John Wiley Price. After the morning service, O'Rourke and West visited St. Luke "Community" United Methodist Church, where he attended the Good News Sunday School Class followed by the 11 a.m. worship service. At St. Luke, he was accompanied by West, and State Rep. Helen Giddings.
During each service, O'Rourke respectfully stayed until the worship services ended. Additionally, he spent an hour in the Good News class answering questions. The class meets for three hours and it is a practice for this class to invite candidates running for elected office to spend one hour with them.
He responded to a question about his experiences that make him eligible to run for U.S. senator.
O'Rourke said he was born and raised in El Paso – a community that has been forgotten, no one ever asked their our opinion. He said he was a small-business owner of a technology company that he started with friends. The company created high quality, high wage, highly skilled jobs for people in El Paso. He served on the El Paso City Council for three years. For the past six years, he has served in the U.S. House of Representatives. He has been married for 13 years and has three children – all being educated in public schools.
When asked how he is going to reach young voters, he said candidates must show up. That's why he goes to college campuses to meet with young people. He has been to several colleges in the state, including Paul Quinn, and will go to others before Election Day, Nov. 6. Turn out at college campuses has been extraordinary.
"We will continue to show up," O'Rourke said, as he emphasized he was running to represent all Texans.
O'Rourke acknowledged the disparities that exist in health care, the criminal justice system, education, the workforce and other economic opportunities. He said the weight of the law is falling on some more than others. He pledged that if elected, he would work to alleviate many of the disparities that exist.
U.S. Rep. John Lewis shared with him, he recalled, that whatever ship we arrived in – some of us came in bondage, some on the Mayflower – today we are all in the same boat.
O'Rourke mentioned he was recently in Harris County and learned that the Harris County jail – with 10,000 inmates – is the largest provider of mental health care services in the state of Texas. Many of the inmates arrested have been diagnosed with bipolar, schizophrenia or major depression and are given medication while at the jail.