One historic step toward justice
Dallas County's historic win, fired officer sentenced for killing Jordan Edwards
ROBYN H. JIMENEZ and DENISHA McKNIGHT | 9/6/2018, 10:36 a.m.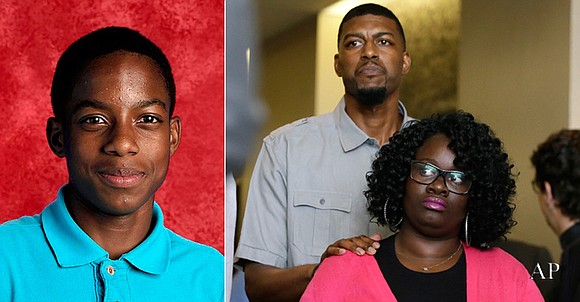 The Dallas Examiner
"Jordan was just one of those kids who you knew was just going to go on and do great things," Jenna Williams, Jordan Edward's English teacher testified. "He was just going to do amazing things. You could tell."
Tearful testimony after tearful testimony from family members, teachers and his coach painted Jordan as a good son, brother and student with a 3.5 GPA, who was brilliant, cheerful and "radiated joy." Nicknamed "Smiley," it was Jordan's smile that he would be remembered by most because he smiled almost all of the time, even when dealing with life's difficulties, according to the testimonies.
But to many across Dallas/Fort Worth and around the nation, the 15-year-old will be remembered as another innocent, unarmed Black male killed by a White officer. Many feared that – just like the many similar cases before this one – the officer would not be convicted of killing a Black person.
Yet, there was one difference between the trial of the officer who shot and killed Jordan, and the other trials around the country of officers who have killed unarmed Black males; the Dallas County officer was convicted of murder. It was the first conviction of murder for the fatal shooting of an unarmed Black person since 1973.
"This is a historic moment. I knew we had a good case. I knew we could prove it beyond a reasonable doubt," District Attorney Faith Johnson said. "Personally, as far as I'm concerned, we won. We got a guilty verdict for murder, not manslaughter. There [are] so many families throughout this country that have been just where the Edwards family has been and they didn't get their 'guilty.' They got 'not guilty.' Tennessee, New York, Florida – all over this country. Year after year after year, police officers have been on trial and the return of the verdict has been a not guilty, and finally, Texas gets on the map."
Johnson, Dallas first Black female DA, explained that the win was not for her, but for the community and the district attorney's office's commitment to justice and accountability. She also wanted to remind the community that the indictment was not against law enforcement.
"This is just a commitment to making certain we get the bad apples off the street. So many of our officers, men and women, do a fantastic job. We appreciate them. I thank them for what they do," she said. "We just got a handful that don't do the right thing, just like we got a handful in most professions that don't do the right thing. I want to send the message that if you break the law, then we want to be able to pursue you. And we want to be able, on the other end, to support those officers who go out there [and] risk their lives day in and day out for me and you, and make certain that we're safe and we're protected."
The trial of Roy Oliver
The trial began Aug. 16 and was presided over by Judge Brandon Birmingham. The trial was viewed via the Law and Crime Trial Network, an online source for live trial cases throughout the United States. This is what it revealed: