Monday Night Politics: Meet the Candidates
Political forum features 12 candidates running for Dallas City Council – District 4.
DENISHA McKNIGHT | 9/25/2018, 8:35 p.m.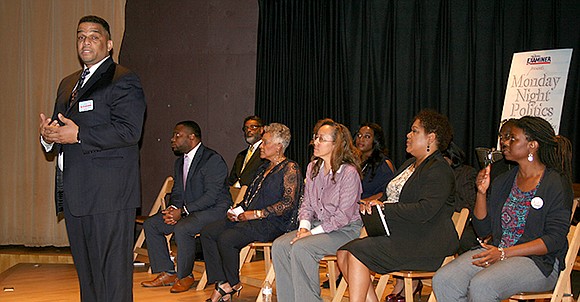 The Dallas Examiner
Monday Night Politics: Meet the Candidates, presented by The Dallas Examiner, returned for a special forum Sept. 10 at the African American Museum, highlighting several candidates running for the District 4 City Council position.
The event began with introductory statements from the 12 candidates who hope to replace former councilman Dwaine Caraway: former councilwoman Carolyn King Arnold, KeBran Alexander, Dawn Blair, Corwyn Davis, Lester Houston Jr., Obi Igbokwe, Becky Lewis, Vincent Parker, Joli Angel Robinson, Keyaira Saunders, Brandon Vance and Justina Walford. The 13th candidate, Donald Washington, was not present.
Alexander commenced this portion of the forum by introducing his close connection with the district.
"I am a child of the district that has grown up," the NAACP Dallas member said. "I have seen the district in its demise, and I want to be a part of the district as it rises from the ashes."
Arnold followed, re-establishing herself as a prominent community leader with two years experience in the city council.
"It is very critical that we understand that we are running some 120 to 150 possible days without representation behind the horseshoe, and this is a time for an individual who has an experience with handling the business around the horseshoe," she said.
Blair is a South Dallas native with 20 years of experience working for the city of Dallas in the Aviation department, who expressed her devotion for countering code enforcement and city staff issues.
"I am passionate about our district," she said. "I am prepared to serve our district, and I will be persistent to make change in our district."
Davis presented his platform by focusing on public safety and economic development.
"The city of Dallas is moving. So our decision is, are we going to be a part of that movement, or are we going to be a part of that economic development?" the attorney said. "I wanted to let you know as your city councilperson I can do something about those things."
Vance is an active Oak Cliff native who has played a significant role in the district's school environment as a college adviser at KIPP charter schools.
"I care about our community," he said. "I care about our students and our kids, fighting for them day in and day out. Education is a big piece of my platform and I want to continue and grow as we grow District 4."
Parker then detailed his role as a community leader and liaison at Golden Gate Baptist Church; he's a drug rehabilitation center worker and has helped reopen several closed schools.
"I'm looking to bring a community-based approach to the challenges that are there," he expressed.
Igbokwe said he aims to bring stronger leadership to the council and an overall transformation to the district.
"Our district needs somebody with a little more vision than we had in the past," the former Dallas County school bus driver said.
Walford followed by greeting the crowd and discussing her resume.
"I am an entrepreneur and a nonprofit founder so a lot of my focus will be for the small businesses and with the nonprofits and churches in our neighborhood," she said.