Monday Night Politics: Meet the Candidates
Political forum features 12 candidates running for Dallas City Council – District 4.
DENISHA McKNIGHT | 9/25/2018, 8:35 p.m.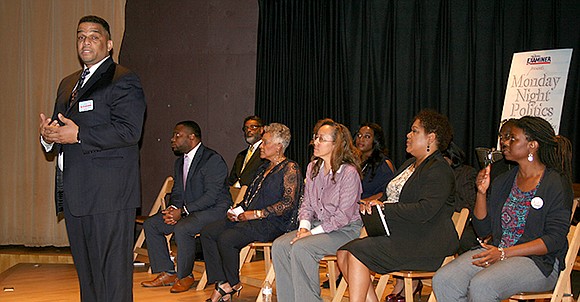 Saunders is a local activist and has returned to the ballot after running for the same position two years ago.
"I'm running for city council because I can see a movement happening, not only within the community but in the nation and around the world," she said. "This community I live in – I'm raising my children here, I'm planting seeds and plan on living here for years to come. So if I'm looking forward, I know I have to do the work that it takes now to have the lifestyle I want to see in the future."
Robinson has worked for the Dallas Police Department's Office of Community Affairs and the Youth Outreach Unit, and said she strives to bring this experience to the horseshoe.
"In council District 4, there are several pain points," she said. "There are three that I've heard not only in budget town halls but in my lived experiences. Education, health and safety – that's one bucket. Entrepreneurship and innovation – that's another bucket; and accountability for all our city services is the third bucket for me. Those are my pain points."
Houston is a District 4 native and effective neighborhood association leader in his area. His campaign focuses heavily on neighborhood issues such as zoning and economic development.
"I'm excited to be back home and representing this district," he said.
The introductions ended with Lewis, who demonstrated her well-connected background as a former constituent liaison for U.S. Rep. Eddie Bernice Johnson.
"I am what you need in District 4 because I understand the issues that are there," she said. "I live them; I see them; I'm around them everyday."
The audience participated in an extensive questioning session with the nominees, centered around community, job development and integrity.
During the forum, the audience had an opportunity to ask the candidates questions about their platform, past performance and plans as a councilmember.
Question: How will you counter gentrification, especially for those who are retired?
Parker: A couple of things – the city has already upped the homestead exemption $60,000 to $90,000 and that's not going to be sufficient. In my neighborhood, the homeowners' association is flipping houses. They were $150,000; now they're selling for $300,000-$325,000. And that sends the tax rate up on everybody. We're going to increase the homestead exemption for people like you. I also want to try to see if we can cap the tax rate for certain people at a certain age at a lower rate. So it's going to be some increase just because the reality that we're in, but hopefully we can work out something – we can cap for people like you, and there are a lot of people like you in District 4 who are challenged right now.
Vance: As Pastor Parker said, there are some things that are already set in motion. The city has lowered the rate for the last three years, as they have been allowed to do, trying to make things better for the community. But there are some ships that have already [sunk]. What I want to do, as we're thinking about business and economic development in the area, and as we're looking at the market value analysis in the opportunity zones, is be very thoughtful in how we plan going forward. Looking at plots of land, looking at places where we can bring in new development that won't have an immediate impact on property values and pricing people out of their homes: So it's being very thoughtful, talking with the homeowners' associations, talking with residents to find out what is going to be best for this area versus this area. So very much listening to what the community needs and fighting for that.