Adding 'dignity' to prison time as number of imprisoned Texas women continues to grow
CATHERINE MARFIN | 4/1/2019, 2:39 a.m.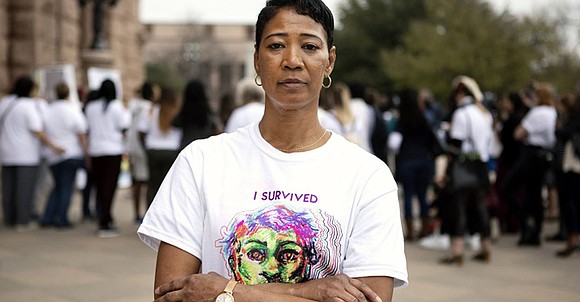 The Texas Tribune
Evelyn Fulbright had a painful tumor on her uterus during the two years she spent in prison. It caused her to bleed during most of the month, so she'd often wear three pads at a time to keep herself clean. Usually, it wasn't enough.
She said the pads in the prison were too thin, and the tampons had uncomfortable cardboard applicators. There were many times that she bled through her uniform, which is white in facilities operated by the Texas Department of Criminal Justice.
When that happened, she said she'd try and wash it out on her own in the sink. She said she was told it was against the rules but that many women took the chance anyway.
"It was painful. I was bleeding all the time," said Fulbright, who was sentenced to prison in 2006 when she was 41 years old. She said she had a severe cocaine addiction and was originally arrested for a drug offense in 2001.
Many women who have spent time in the state's prisons have similar stories. In a survey of over 400 incarcerated women conducted by the Texas Criminal Justice Coalition last year, more than half said they didn't have access to enough pads and tampons each month, and that the quality of products was poor.
It's just one of many issues that make it difficult to be a woman in prison, and one of many that advocates and lawmakers are hoping to address this legislative session.
In the run-up to the session, the House Committee on Corrections was asked to study treatment options and conditions of the state's incarcerated women. The committee's report has led to a group of 13 bills aimed at helping women in the state's criminal justice system, addressing issues including trauma history, feminine hygiene, vocational and educational programs, parents in the justice system and the treatment of pregnant women who are incarcerated.
Earlier this month, to coincide with International Women's Day, a group of lawmakers and formerly incarcerated women marched from the Travis County Jail to the Capitol to share their stories with lawmakers and discuss some of the proposed legislation. And last week, some of the bills began moving forward in the House.
The new scrutiny comes as the population of women in state prisons has risen at twice the rate of the male population over the last 40 years, according to TDCJ data. From 1980 to 2018, the number of incarcerated women increased 874 percent, while the number of incarcerated men increased 408 percent.
Last year, incarcerated women made up just over 8 percent of the roughly 145,000 offenders in TDCJ facilities, according to TDCJ data. And 64 percent of women in the state's corrections system are there for nonviolent offenses, according to the House Committee on Corrections.
"There are expectations in free society of women. It's important that TDCJ, in the rehabilitation and eventual reintegration, they focus on that and on promoting, facilitating the dignity of women and the health of women," said Rep. James White, R-Hillster, who chairs the House Committee on Corrections.