Adding 'dignity' to prison time as number of imprisoned Texas women continues to grow
CATHERINE MARFIN | 4/1/2019, 2:39 a.m.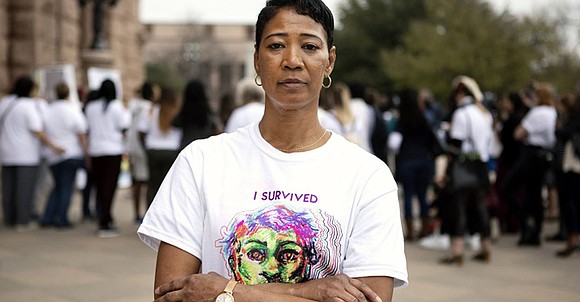 White authored five bills this session that he said could help justice-involved women. One is House Bill 650, a comprehensive bill that he said is meant to provide "dignity and positive womanhood" to incarcerated women. The bill has bipartisan support from four co-authors.
Its proposals include adding a requirement that the department make certain feminine hygiene products available to inmates.
The department already provides 24 pads and six tampons to women each month, said Jeremy Desel, director of communications at TDCJ. He said there is no rule in TDCJ facilities that prohibits inmates from washing their own uniforms if they bleed through and that additional feminine hygiene products are available if women request them, or they can be purchased at the commissary.
He said a team of female leadership within the department recently reviewed the feminine hygiene products provided, and aside from adding panty liners to the list of items given out, the team determined the quality of the products was "satisfactory."
White's bill has since been updated to propose requiring the department to provide large-sized tampons with plastic applicators, regular or large pads with wings, and panty liners. The new version would also require the department to provide up to 10 additional products to women per day if they request them.
Lindsey Linder, a senior policy attorney with the Texas Criminal Justice Coalition, said those are the "absolute minimum acceptable standards" for women.
"If you only have access to a certain number of products, then you're waiting until you absolutely have to change them," Linder said. "That's a medical issue. It can cause yeast infections, and if you're using tampons and you're waiting to take them out because you know you only have a certain number, then you're looking at toxic shock syndrome risk. It's just not a good health care policy."
Expecting and Incarcerated
For the small portion of woman inmates who are pregnant, serving time in Texas can be especially difficult. From 2010 to 2016, about 200 women gave birth while incarcerated in TDCJ facilities each year, according to the Texas Criminal Justice Coalition.
Because of legislative changes made in 2009, TDCJ facilities are prohibited from shackling women during labor and while they are recovering from delivery. But they can still be shackled at any other time. White's HB 650 would prevent shackling at any time during a woman's pregnancy.
Angelica Zaragoza served two stints in prison between 2003 and 2016 for drug, theft and prostitution offenses. When she was sent to prison the first time in 2003, she was pregnant with her second child and gave birth while incarcerated. It was before the law had changed, so she said she was shackled by her ankle during labor.
But she said she was shackled other times, too, like when she went to doctor's appointments or was transferred to the prison unit near a hospital in Galveston operated by the University of Texas Medical Branch, where many pregnant inmates give birth.
"How is a woman supposed to keep her balance and everything else? It's difficult. The [shackles] hurt, you're swollen. It's inhumane, really," Zaragoza said.