A king's service: National group hosts luncheon to pair mentors, young men
MIKE McGEE | 4/8/2019, 12:04 p.m.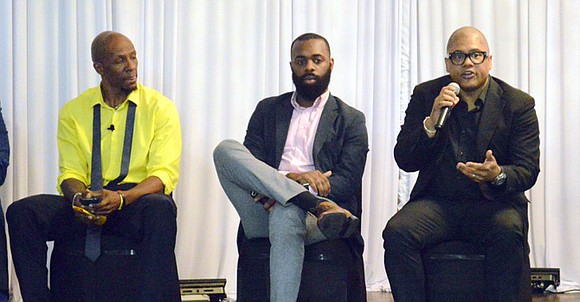 The Dallas Examiner
There was a consensus of sentiments voiced about the value of community and mentorship during The Men's Brunch, held March 24 in DeSoto. The event, similar to the ones held in Atlanta, Georgia, and Kansas City, Missouri, was intended to raise awareness for the upcoming BE MEN Summit, as well as pull in funds and draw mentors from the community. The panelists at the brunch were fully on board with the concept.
"Any time you have an event that's helping young men it's always important. We've got to make them important to us," said professional bodyguard Big Boom Freeman.
"Big Boom said it exactly right," K104FM on-air personality Cat Daddy responded as he considered his responsibility to those around him. "You know, when you get game, when somebody has blessed you with opportunity or blessed you with some knowledge, you have to turn around and you have to give game. And like Boom said, we were called to that and we answered that call."
Other panelist speakers who answered the calls included DJ ASAP The Mogul; Matt Houston, Dallas Black Chamber of Commerce chair; Michael Burks, CEO of Michael Burks and Associates LLC; branding entrepreneur Brandon Moore; Dr. Stephan Conley of Total Body Chiropractic; and Ron Davis Sr., president of the Davis Integration Group LLC.
Jade Tinner, the founder of The Men's Brunch and the BE MEN Summit, spoke further upon the purpose of the gathering.
"The Men's Brunch is to encourage, empower and pamper the men in our community that are giving back. It's also to challenge the men in our community to do more, and more so focus on our young men in the community, so becoming mentors with the BE MEN Summit," she stated. "It stands for 'Be Exceptional, Mentally Escaping Negativity.' It's a day-long summit for boys 13 to 18. … we'll have mentors out, breakout sessions, there'll be a panel, Q&A during lunch."
"There'll be some flag football, so some fun for the guys, but there'll be takeaways from it, so things like starter checking accounts to teach them how to manage their money; ties, so that they can look professional when they go out to interviews or when they're doing anything of that nature.
"So, really, learning to overall enhance their lives with a database of men that they can come to for their needs."
The brunch festivities included cocktails, cigars and hors d'oeuvres on the patio of Unique Visions Upscale Events, music by DJ Lex In The Box and a catered lunch served to what was described as "the kings," or male participants, by volunteer "queens," who provided feminine attention. Near the conclusion of the affair, the guest speakers took to the stage to answer questions and provide insight into various topics.
Ron Davis offered that the brunch was about bringing "receipts" for the positive work that is been done by successful Black men.
"But it's also the message that there are not enough of us doing it. So, for the other side, as men, it's a good moment to sit up here and champion the moment that we've done well, but it's also a moment where we can sit up here and say that there's more that needs to be done. We need help," he asserted.