Monday Night Politics – Meet the Candidates: Forum features candidates for Dallas City Council District 7
MATTHEW HIRST | 4/8/2019, noon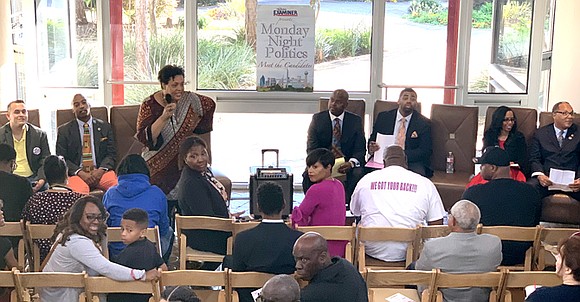 The Dallas Examiner
Monday Night Politics – Meet the Candidates, presented by The Dallas Examiner at the African American Museum on March 25, featured candidates running for Dallas City Council District 7 in the May 4 general election.
Each candidate was given two minutes for opening statements, followed by a Q&A session where audience members could present their questions for the candidates to answer. Sade Johnson was not present.
Opening statements began alphabetically by last name, starting with Adam Bazaldua, a culinary arts teacher from Skyline High School. He is also chair of the Enclave of Grove Hill HOA Crime Watch, vice chair of the Davis Garden TIF Board, and an appointee to both Dallas ISD's District 9 Community Task Force and Police Chief Hall's Community Task Force.
"I'm running on three big priorities – affordable housing, building coalitions, and increasing transparency and accountability in our government. The affordable housing aspect is something that is not only a plague for District 7, but also throughout the city of Dallas. The coalition building, I have a plan to have two prongs – one that's internal and external. Internal coalition building looks like creating an advisory board, essentially, throughout the district with the stakeholders and the movers and shakers already that are doing the work. Then the external component is to make sure we can seek eight votes to get anything done and work with the neighboring elected officials to get anything done for the people. We need more accountable and transparent representation at City Hall as a whole, and District 7 specifically. I'm tired of seeing our district at the forefront of the news, and I would like for that news to be in a positive light for the constituents and progress of our district."
Next was incumbent Councilman Kevin Felder, the district representative for the past two years. He has served on various city commissions and boards, such as the Industrial Development Corporation, Southern Dallas Development Corporation and Vickery Meadows TIF. Felder is vice president of the NAACP – Dallas and owner of Felder and Company Realtors.
"I'm running on my track record. Less than two years in office and we've done quite a bit for this district. First thing we've done, we created a district office in the MLK Center. We put $250,000 of renovations in the MLK Center. I've heard over and over again that it's going to close … it's not going to close. We passed a $50 million bond package for Fair Park – of that $50 million, $2 million came to this museum to upgrade this museum. I'm very proud of my track record. I'll speak about that more later, some of the things that we've done. We've created a new standard in District 7. We have had 50 town hall meetings in the last 22 months. That is unprecedented and I've been at all of them. … There are many candidates running in this race, none of them can say they have a track record of achieving anything in this district. That's the truth."