Monday Night Politics – Meet the Candidates: Forum features candidates for Dallas City Council Districts 3, 4
MATTHEW HIRST | 4/14/2019, noon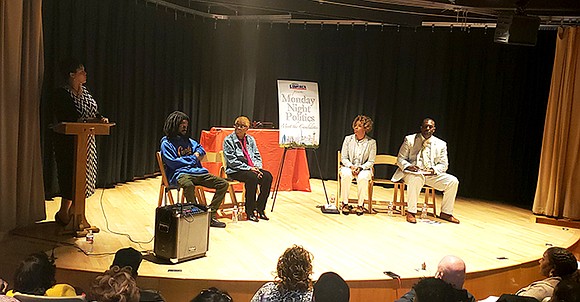 The Dallas Examiner
Monday Night Politics – Meet the Candidates, presented by The Dallas Examiner, hosted its fourth of six forums at the African American Museum, April 1. The political forum featured candidates running for Dallas City Council Districts 3 and 4 in the May 4 general election.
Each candidate was given two minutes for opening statements followed by an open Q&A session where audience members were given one minute for questions that each candidate would then have an opportunity to answer. District 3 went first, of which all candidates were present except for Denise Benavides.
Opening statements began with incumbent Casey Thomas II, who was first elected in 2015 and reelected in 2017. He also serves as chair of the Human and Social Needs Committee and is a member of the Economic Development and Housing Committee and the Mayor's Housing Steering Committee.
"We have low crime, 90% single family homes … 10% multifamily. We have middle to upper- middle income and the majority of those who are active in our district are those who are college educated. So, we're going against every stereotype that you can think of when it comes to Southern Dallas. However, there is a perception that we don't have the income … the density … the things that they have out north, and we've been working diligently to go against every one of those perceptions. If you've noticed, we've made tremendous progress and strides in this district and I ask that we continue to do that."
Next was Britannica Scott, regional supervisor for IT services in DISD's Northwest Quadrant. She is also an administrative coordinator at the UNT Dallas College of Law and has spent much of her career working with educational programming and community outreach.
"Being a resident of District 3, I have to agree with the incumbent. There is a perception … that we don't offer certain amenities and that we don't have the working class, but we do. … There is a workforce in our community, but I believe it takes a stronger leadership to put money into our community rather than into developers' hands. My plan as a leader is to put money into our district. … That means providing programs, that means providing services to our elderly. In addition, redoing the way our infrastructure is. … My main goal is not just economic development, but providing additional housing in addition to providing reform programs to assist your children."
Following Scott was Charletta Rogers Compton, president of Rogers and Associates, Creative Productions and a board member of the Dallas County Community College District Board of Trustees for 18 1/2 years.
"I'm running for this seat because I believe all of District 3 matters. What I've seen in past years is that only a small portion of District 3 is receiving the time and attention of the councilperson and that needs to change. We all want the time, attention, and resources allocated to our neighborhood. … We have pot holes, we have decaying streets all over District 3. I believe in equity and fairness, and I want to represent all of the residents of District 3 to make their possibilities a reality."