Monday Night Politics – Meet the Candidates: Forum features candidates for Dallas City Council Districts 3, 4
MATTHEW HIRST | 4/14/2019, noon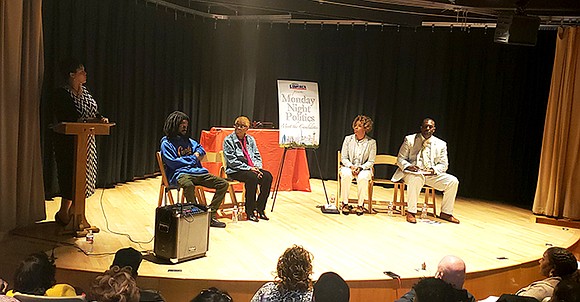 Lastly was community activist Davante Peters, perhaps best known for his efforts to fight police brutality. He was one of the "Dallas-9" arrested and charged with obstruction of traffic outside of AT&T Stadium on Sept. 16, 2018, while protesting the police shooting deaths of Botham Jean and O'Shae Terry.
"My platform is on the side of the working class. We're doing things like giving the youth some jobs programs and economic opportunity because … instead of increasing the police presence and the occupying force in our neighborhoods, I think we need to give the youth a fighting chance and not criminalize them. … I'm the youngest candidate, but I believe I'm the strongest candidate. I'll show to you a different way of how to engage. ... I'll hold my co-workers to a standard of excellence and … transparency, and I don't believe that's what's going on currently in City Hall. … I believe this is a historic election, not just for the mayors but for the City Council as well, so put a progressive candidate in office and let's do something different."
The forum then opened up for questions from the crowd. Among topics covered were best solutions for economic development, thoughts about paid sick leave, and rising property taxes.
Question: What is your No. 1 priority as it relates to economic development for your district?
Davante Peters: My priority for economic development is definitely to give people a fair chance at employment. Our recently incarcerated individuals need a chance at fair hiring and not to be discriminated upon when they're trying to just feed themselves and feed their family. I believe people, they want to work, and if we're limiting opportunities for them, it's going to create a culture of crime and everything that goes with that.
Charletta Rogers Compton: There are a number of things that I think can be done. We need to make District 3 a destination for the rest of the city, and as a matter of fact, I'd like to see it as a destination for the region. I think we can look at venues and then our strip malls that we have – some unique shops, restaurants that will bring people into that district. We need permanent jobs rather than temporary jobs.
Britannica Scott: To address economic development in District 3, my plan is to support local businesses – to give them more employment opportunities or business with the city of Dallas. In addition, what I plan on doing is an education reform system that will be funded by the city of Dallas ... and what it will be is an educational technical program that will be based on a six-month program that we'll do in partnership with the local community colleges.
Casey Thomas II: I led the effort to build, for the first time in the history of the city of Dallas, a workforce development program – $1.5 million for four community-based organizations. Three of them have already received a grant, one defaulted so there's an RFP that should be going out real soon for another community-based organization. Another thing is, we want to have greater opportunities for contractors of color on joint venture projects. Not just participate at 15% or 20% level, but an actual joint venture.