Texas may owe $223 million after illegally reducing special education funding
ALIYYA SWABY | 4/14/2019, 10:33 p.m.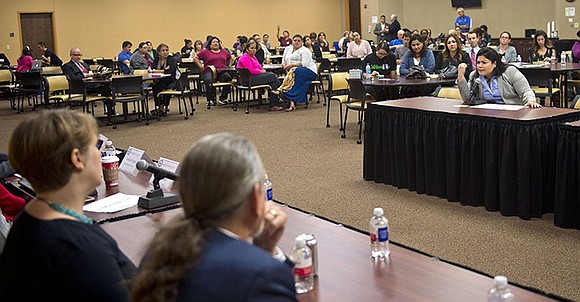 But getting the money to schools would also require additional appropriations. Any additional spending tweaks House lawmakers want to make must be ironed out in conference committee negotiations toward the end of the session, said the House's lead budget writer Rep. John Zerwas, R-Richmond.
In the last few years, Texas has continually fielded reprimands from the federal government for violation special education law. A federal investigation in 2018 found Texas in violation of effectively capping the percentage of students who could receive special education services.
Education officials say they have followed federal requirements to overhaul special education, allowing them to "improve the standard of service to students with disabilities across Texas."
Advocates worry any financial penalty would end up decreasing money given to schools for providing student services.
"The loss of federal aid because of the state's failure to spend at the appropriate level will directly affect agency operations and efforts to bring the state into compliance with the federal investigation, but more importantly would also affect the availability of services at the local level by putting even more of a burden on local tax dollars to pay for services," Aleman said. "Any shortfall in federal aid because of a state violation needs to be made up by the state."
This article was first published at https://www.texastribune.org/2019/04/05/texas-estimates-it-may-owe-feds-223-million-special-education-funding by The Texas Tribune, a nonprofit, nonpartisan media organization that informs Texans – and engages with them – about public policy, politics, government and statewide issues.