#UsToo Phenomenal Women Exhibit showcases majesty of the Black woman
DIANE XAVIER | 4/14/2019, noon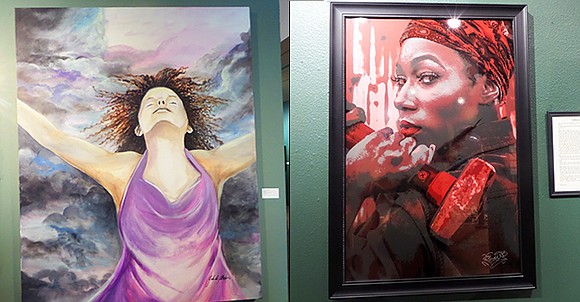 The Dallas Examiner
African American women continue the fight today to be respected and acknowledged for their many talents and contributions to society.
Last year, singer Bette Midler compared women to the "N-word" in a Twitter post after she got angry at the confirmation hearing of Supreme Court Justice Brett Kavanaugh, who was accused of sexual misconduct by numerous women.
The tweet sparked questions and conversations within the Black community, leading one Black woman to ask, "Ain't I a woman?"
The racist tweet encouraged local African American women to speak up and create their own empowerment movement through art, called "#UsToo Phenomenal Women."
Also, after L'Daijohnique Lee, an African American woman, was beaten in Deep Ellum recently, the public pressured officials to upgrade the charges.
Both circumstances encouraged the community to have a conversation and tackle the issue of decimation as well.
Artist and curator Jennifer Cowley led the way, along with 20 other local African American female visual artists, in an artistic exhibition highlighting their artistry at the African American Museum. The exhibit debuted Feb. 16 and runs until May 31.
"The purpose of the exhibition is to give African American female artists an opportunity to show their work and to basically have their voices heard as an African American woman," said Cowley, who was asked to curate an exhibition for female artists.
"I did not want it to be just a retrospect, I wanted it to have some umph, and it just so happened at the same time that Brett Kavanaugh was being confirmed as Supreme Court Justice and Bette Midler made a statement that women are the N-word of the world. When she made that statement, she was being unintentionally racist. When she stated it, she was quoting a John Lennon and Yoko Ono song from the 1970s. … African American women have been called the N-word numerous times, White women have not, so for her to make that statement is an insult to African American women in particular."
According to Cowley, a journalist said the exhibit was based on Sojourner Truth's speech.
"I then changed that to '#UsToo Phenomenal Women' because I wanted to celebrate the awesomeness of being an African American woman that just like any other woman, we want to celebrate no matter what your racial makeup is," she said.
The exhibition also features empowerment music by African American female artists, artwork made of quilt, paintings, and print and digital photography.
"There are many challenges that African American women face in today's society," Cowley said. "First of all, we experience disrespect and our voice is not being heard. For instance, the beating of the African American woman in Deep Ellum, it took forever for them to prosecute this man and he was not held accountable right away, and that is troublesome."
One artistic piece of Cowley's, called Beyond the Breast and Straight to the Heart, highlights body image.
"What women should do with their bodies, Beyond the Breast and Straight to the Heart, is a body print which depicts the breast and a piece that says look past my exterior and look straight to my heart," she said.