#UsToo Phenomenal Women Exhibit showcases majesty of the Black woman
DIANE XAVIER | 4/14/2019, noon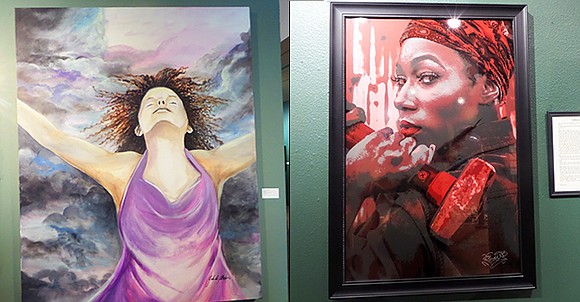 Tyra Goodley, another African American female artist, also took part in the exhibit. She created a piece called Bus Stop.
"Bus Stop is the epitome of the current Black family," Goodley said. "It depicts a single mother with her child at a bus stop, which is a pivotal place for her. This is a place she has to call on all forces of nature and inner energy and strength to help her family move forward. In this artwork, the mother looks weary, and she is undefeated and has a host of support emerging from her hair, which looks like braids. But with a closer look, all the many women and support that she has had to call on become visible, which includes her grandmother, mother, aunt, sisters and close friends that help give her the strength to fortify herself in a Black family."
She, like several of the Black female artists invited to participate in the exhibit, said she was glad to be asked to participate.
"I am honored to be a part of this. … It is very easy for me to participate in something like this because it is actually my life and part of my lifestyle and the elevation of the woman, particularly the Black woman, is a necessity for the shift and paradigm of the universe. We are the silent heroes that are rising to the occasion to continue to heal the earth and to make it a better place."
Goodley honors and credits her ancestors for making it possible to do the work she does today.
"First of all, people should come to understand that this is not an easy feat to do," she said. "Yet it is still attainable and it is because of the strength of our ancestors and those that have paved the way for us that we are able to have such a strong voice and a necessary voice in our times. So, I think after viewing the exhibit, people will leave with a better feeling of understanding of who the Black woman is and why her voice is important."
She believes the exhibit also unifies Black women as well.
"I wanted to not only give African American female artists an opportunity but also to let them know that we all have a seat at the table," she said. "This is not a competition. We have a place where all of our light is shining brightly and that we are all sisters in this and that we are not dimming it for anybody."
Cowley and Goodley both agree that there are still challenges of being an African American female artist.
"Disrespect and not having our voices heard because it is a male-dominated field are some of the challenges we face," Cowley said. "Throughout history, African American women have been seen as being at the bottom of the totem pole. We are doing things because we want our voices heard and we want respect. We have lots to say and we are not going anywhere."